Throwback to the Palma Superyacht Show 2023!

Throwback to the Palma Superyacht Show 2023!
The BGYB team was present at the Palma Superyacht Show which took place from 27th to 30th April 2023. To mark the event, the team exhibited three exceptional sailing yachts: WALLY ONE, Y3K and TELSTAR VI!
June 7, 2023
A Beautiful Edition!
Created in 2013, the Palma Superyacht Village is reserved for motor yachts and sailing boats over 24 metres in length. It takes place in Moll Vell, an classic marina located in the centre of Palma, the capital of the island of Majorca. For the 2023 edition, the BGYB team exhibited three yachts: WALLY ONE, Y3K and TELSTAR VI. These are three sailing boats of 25.15m, 30.50m and 29.65m respectively. The show went very well, with each boat having many visitors. This year, the team also made its mark by organising a wonderful cocktail party at the Tree House by UM, with an impressive view of the port of Palma.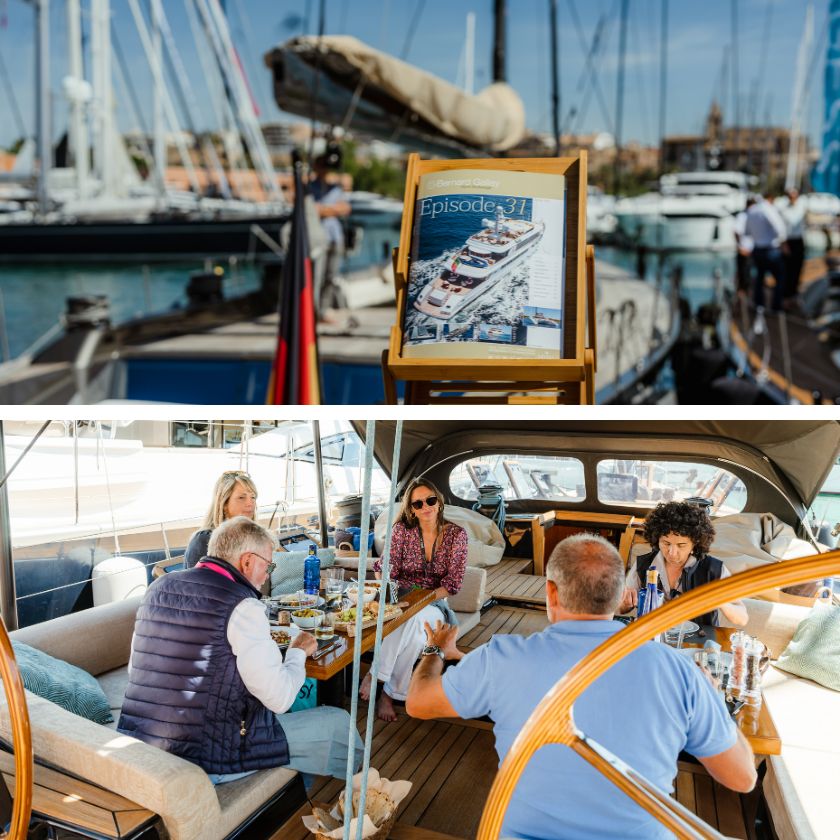 More than 60 people gathered on its magnificent rooftop to spend the evening. For more details about the evening, you can read the article dedicated to the event: BGYB Cocktail.
WALLY ONE, although completely refitted, has kept many of her original features, which make her charming. We also received visits from sailing-enthusiasts who explored the yachts and appreciated her traditional beauty. We also had visits from potential customers who are looking into the possibility of chartering her this summer. Palma provided the ideal platform for WALLY ONE to make her mark. Nuno, the captain, who has been on board for 13 years and played an active part in the renovations, is looking forward to a promising summer season!
A lunch was also organised on board this Wally with yacht charter brokers to showcase the talents of her chef and to test the service and quality of the cuisine on board. WALLY ONE is back on the charter market and ready to sail the Mediterranean with her guests! To find out more about this lunch, you can also read: WALLY ONE: Broker Lunch!
The show also went very well for Y3K. This yacht is in perfect condition, always meticulously maintained. Brokers and customers showed great interest in this Wally Yacht.
Finally, TELSTAR VI was perfectly prepared by her crew and received numerous visits from clients and brokers. Most of our broker colleagues found this to be an excellent buying opportunity, given her high volume, impeccable condition and high level of rebuild!

The show maintains a high level of repeat business every year. At BGYB, we are one of those satisfied customers, exhibiting 2 to 4 yachts each year. The organisers state that "The Palma International Boat Show has proved to be a catalyst for the sector, as it has been and continues to be one of the most important gateways for international companies wishing to establish themselves in the islands or establish relationships with local companies in order to open up new commercial channels".

More information on their dedicated pages: WALLY ONE, Y3K or TELSTAR VI
For more information on this Boat Show, please visit the dedicated page: Palma Superyacht Village
You can also watch the new Youtube video of WALLY ONE, Y3K and TELSTAR VI