SHERAKHAN : Visit and Cocktails on board

SHERAKHAN : Visit and Cocktails on board
We had the opportunity to visit the incredible SHERAKHAN Yacht at the Antigua Yacht Charter Show.
December 21, 2022
SHERAKHAN : Luxury private cruise
The BGYB team had the privilege of touring the yacht SHERAKHAN, guided by some of her crew members. This magnificent 69m yacht is impressive, each room is unique and the whole yacht offers an elegant ambience. She has been renovated with taste and precision, which is noticeable as soon as you enter the atrium with a 7m high ceiling... This space houses a central dining table for 26 people. This superyacht can accommodate up to 26 people in 13 large cabins, each between 30 and 50 square meters, and providing its own bathroom.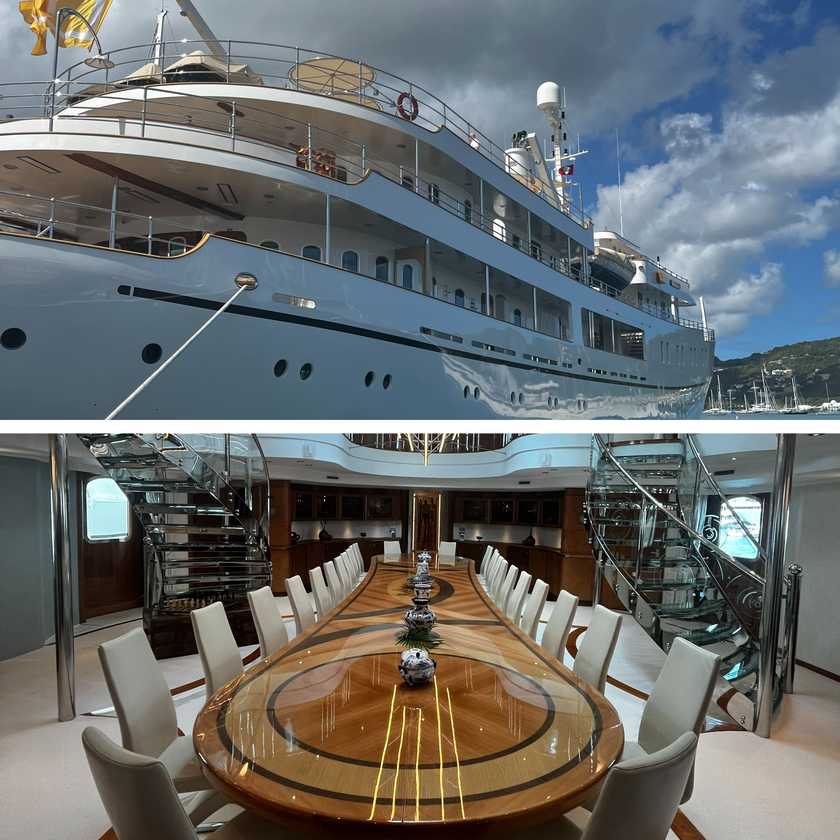 The Master Cabin, on the other hand, occupies the front of the yacht with numerous openings to enjoy the breathtaking views of the ocean and its archipelagos. All guests will also be able to enjoy a private moment of relaxation thanks to the famous "Siren Spa" room isolated somewhere in the yacht. This space offers a Jacuzzi, a spa, a sauna and a beauty salon with a qualified therapist.
At nightfall, we enjoyed the cocktail party organized on the upper deck by the 19-person crew. The service was up to the splendor of the yacht, we enjoyed amazing cocktails and canapés. The space dedicated to this event was composed of a circular bar and a stage with a DJ. We thoroughly recommend this yacht for excursions between large families or friends and for events.
Charter price :
From 485,000 EUR/week + All
The yacht is confirmed available in the Caribbean this winter and in the Mediterranean for the summer 2023.
Do not hesitate to contact us to receive the brochure and a detailed quote:
charter@bernard-gallay.com
To learn more about the SHERAKHAN visit its dedicated page: