Galapagos
Islands
A trip to the Galapagos Islands is a unique experience in a paradise north of Ecuador. A yacht charter in the Galapagos Islands allows tailor-made cruise tours to discover the entire archipelago. During diving trips and excursions, discover multiple endemic species.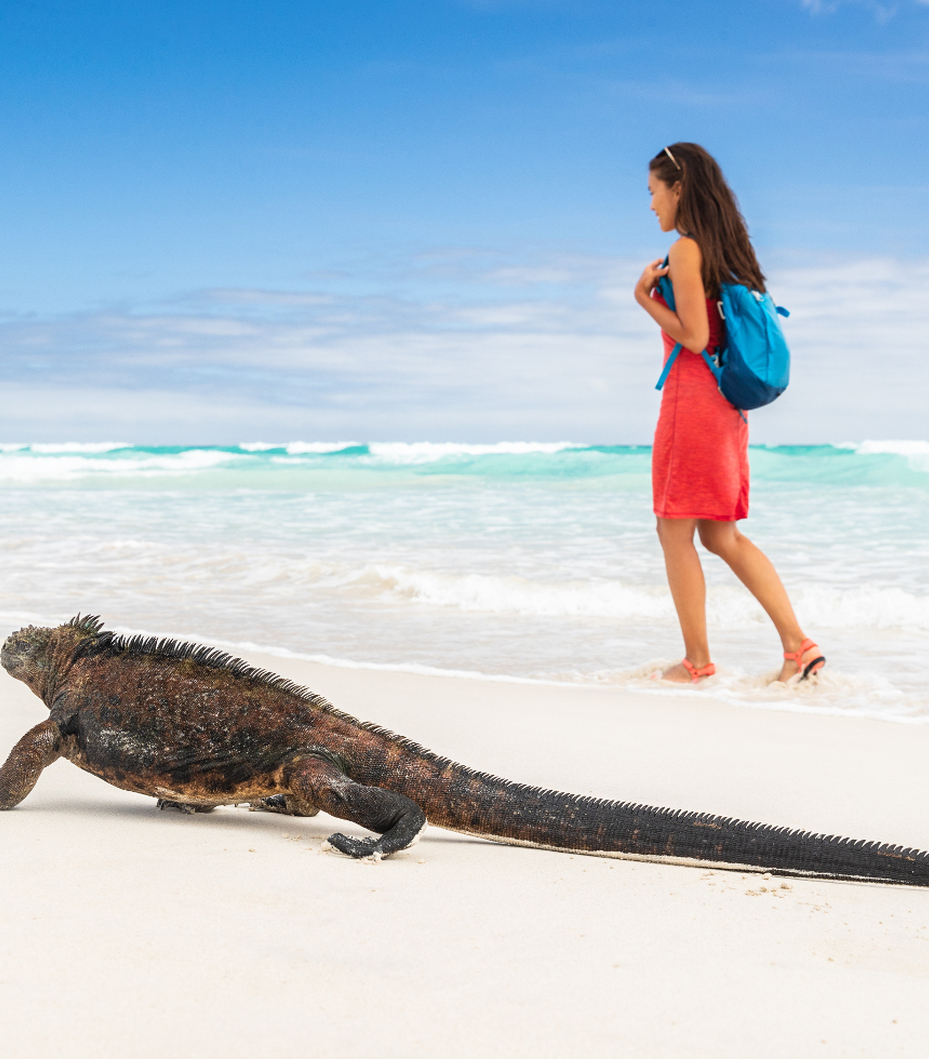 Yacht
charter in the Galapagos Islands
Access the treasures of the Galapagos Islands from Quito or Guayaquil airport. From Baltra, Puerto Ayora or Puerto Villamil, enhance your stay aboard a luxury boat. For cruises in the heart of the Pacific Ocean, yacht charter in the Galapagos Islands makes sense.
When to go :
The best time to go is from December to May
Charter
Highlights in the Galapagos Islands
In the Galapagos Islands, activities and visits quickly turn into unforgettable adventures. Discover the volcanic landscapes populated by unique birds and animals through our selection of charter high
01

Fauna

and Flora

The Galapagos Islands are home to some of the richest and most diverse species on the planet, as nature is permitted to thrive without interference from the modern world. Observe giant Galapagos tortoises, spot rare birds and reptiles, and swim with sea lions and dolphins.

02

Water

Sports

The waters surrounding the Galapagos archipelago have been declared both a Marine Reserve and UNESCO world heritage site, so it comes as no surprise that your charter here will provide you with incredible snorkeling, kayaking, and diving opportunities.

03

Breathtaking

Views

Thanks to their volcanic origins, the Galapagos Islands boast an array of unusual landscapes to explore. During your stay you can explore stunning red sand beaches, volcanic craters, and lava flows, before unwinding on tranquil beaches.
Suggested
Itinerary
At BGYB we offer our clients bespoke itinerary for their charter holidays. Please contact us to receive your very own personalised charter itinerary.
Day 1

Baltra Island (embarkation) and Daphne Major & Minor Islands

Your charter begins on Baltra Island, the smallest island in the Galapagos. From here pay a visit to the Daphne Major & Minor Island, conservation sites home to a variety of species of birds including the blue-footed booby, red-billed tropicbirds, and Galápagos martins. Other highlights on these islands include going crater hiking, and exploring their unique dive sites.

Day 2

Isabela Island - Punta Vicente Roca and Punta Espinoza

Sail over to Isabela Island, the largest and often said to be the most beautiful of the archipelago. Visit Vincente Roca Point, a large bay made up of 2 separate coves, and go snorkelling to witness some fascinating sea life. In the afternoon, head over to Punta Espinoza on Fernandina Island, known for its beautiful views and large population of marine iguanas.

Day 3

Bartholome Island - Pinnacle Rock and Sullivan Bay

Move along to Bartolome Island, known for its incredible volcanic landscapes. Take in the view of its landmark Pinnacle Rock, and go snorkelling with the penguin colony who live beneath it. Sail over to Sullivan Bay to be immersed in the volcanic origins of the Galapagos; the area is covered with lava flows. Don't miss the two coralline beaches nearby where you can go swimming and diving.

Day 4

Santa Cruz Island - Playas Las Bachas and Rabida (Jervis Island)

Head to Santa Cruz Island where you can spend the morning relaxing on Bachas Beach. Go kayaking, snorkelling, and seek out the two small flamingo ponds situated nearby. Bachas Beach is also a nesting zone for the Galapagos green turtle. Spend the afternoon on Rabida Island, also known as Jervis Island, where you can go for a walk along its stunning red beach and snorkel amongst its diverse marine life.

Day 5

Santa Cruz Island - Darwin Station / Puerto Ayora and Highlands

Visit the Charles Darwin Research Station and witness some of the crucial conservation efforts taking place in the Galapagos Archipelago, including most notably its breeding centre for giant turtles. Spend the afternoon exploring Puerto Ayora, the liveliest city of the Galapagos, and don't miss a trip to the interior highlands, where you can see giant tortoises in their natural habitat.

Day 6

Floreana Island - Post Office Bay, Punta Cormorant and Champion Islet

Sail to Floreana Island where you can visit the famous Post Office Bay, home to a barrel-mailbox where you can take and leave postcards as part of a tradition dating back to pirates and whalers. Also not to be missed is Punta Cormorant, home to a beautiful lagoon and fine sand beach. Stop by at the nearby Champion Islet in the afternoon for some great diving, snorkelling, and dolphin watching opportunities.

Day 7

Santa Cruz Island - Black Turtle Cove and Baltra Island (disembarkation)

On your final day of charter, spend the morning at Black Turtle Cove – this mangrove estuary is virtually untouched by humans, and is home to a rich diversity of fauna and flora including a colony of endangered green sea turtles. After making the most of this tranquil haven, sail back to Baltra Island to disembark and head to the airport.

Yachts for Charter -
Galapagos Islands
EVOLUTION

Length : 58.5 m / Passengers : 32

Special features : - The yacht has air conditioning, WI-FI, and a foredeck Jacuzzi- Her interiors are elegant and inviting, skillfully designed by Adriana Hoyos.- An alfresco...