New
Zealand
For a cruise in the lap of luxury, charter a yacht in New Zealand. Set sail, with a skipper, in Oceania towards the treasures of one of the most beautiful countries in the world. In the midst of the Pacific Ocean, discover the secrets that places such as Auckland and Waiheke Island have to offer.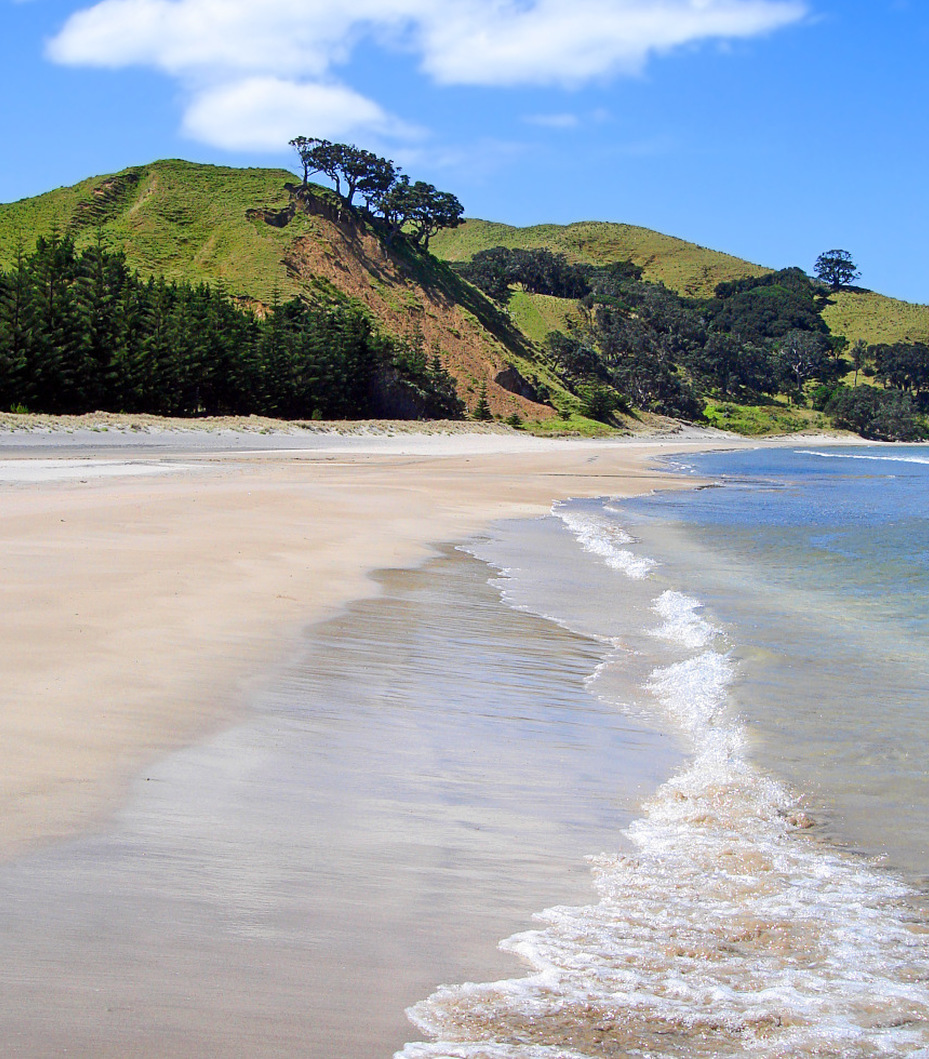 Yacht
Charter in New Zealand
Book a yacht charter in New Zealand for a custom holiday on a luxury yacht. Discover this incredible country on a voyage between its North Island and South Island on board a sailing or motor yacht. Catamarans and Sailing Yachts are both welcomed at Auckland, the "City of Sails".
When to go :
The best time to go is from December to March
Charter
Highlights in New Zealand
Auckland is an unmissable destination, and New Zealand has even more to offer through its mystical islands. Discover our advice for a cruise in the land of the Lord of the Rings and of Narnia.
01

Waiheke

Island

No luxury charter in New Zealand is complete without an escape to Waiheke Island. This exclusive island is known for its seductive beaches, its unique local art scene, and its enchanting vineyards and wines. You can also visit the Stony Batter Historical Reserve for some incredible scenery.

02

Maori

Culture

Maori culture is the true heart of New Zealand and affects every aspect of life, from gastronomy to traditions to language. Discover more about the indigenous people of this beautiful country by witnessing a haka (warrior dance), tasting their cuisine, and learning about their intricate tattoos.

03

The

Bay of Islands

To the north of Auckland, the Bay of Islands offers postcard views both day and night. Depart from Russel port to cruise around the 150 islands that make up the Bay of Islands. Discover historic Maori sites and idyllic beaches. Go diving, fishing, and golfing in this dream-like destination.
Suggested
Charter Itinerary
At BGYB we offer our clients bespoke itinerary for their charter holidays. Please contact us to receive your very own personalised charter itinerary.
Day 1

Auckland

Embark in Auckland, also known as the 'City of Sails', and spend the morning making the most of its perfect conditions for sailing and water sports in the gulf of Hauraki, where you might even be able to spot some orcas as you enjoy lunch on board. In the afternoon, discover some Maori culture at the Auckland Museum, and in the evening sample some "Pacific Fusion" cuisine at one of the great restaurants in the Ponsonby neighbourhood.

Day 2

Waiheke Island

Sail over to Waiheke island, known for its wine, food, and beautiful beaches. Spend the morning swimming and kayaking on the coast, or go on a cliff-top walking trail which lead into the forests. In the afternoon, head to the Man o War vineyard to spend the rest of the day in indulgence – enjoy a wine tasting before a delicious dinner at one of the vineyard's restaurants.

Day 3

Oneroa

Explore Oneroa, the largest village on Waiheke Island, which boasts a variety of shops including fashion boutiques, wineries and jewellers. Explore the town's contemporary art gallery before enjoying a delicious lunch at a local restaurant. Spend the afternoon swimming at Palm beach to the east of Oneroa or relaxing in the infinity pool at the luxury Delamore Lodge.

Day 4

Rotoroa Island

Sail to Rotoroa Island, off of the east coast of Waiheke Island, and spend the day exploring this beautiful conservation and heritage estate. Explore its heritage buildings and state-of-the-art exhibition centre before heading to its beautiful golden sand beaches. Spend the afternoon relaxing in the sun and making the most of your yacht's jet-skis and paddleboards in the turquoise waters.

Day 5

Port Charles

Pay a visit to Port Charles on the Coromandel Peninsula which has a variety of charming beaches to explore, such as Stony Bay or Buffalo Beach. Relax, sunbathe, or do some water sports before enjoying a delicious beach picnic prepared by your crew. Spend the afternoon unwinding at one of the local spas before heading back on board for dinner.

Day 6

Kennedy Bay

Make a stop at Kennedy Bay, an undiscovered beach on the Coromandel, which is perfect for swimming, kayaking, fishing, or just relaxing in the sun. After a relaxing day on the beach, enjoy an indulgent dinner prepared by your yacht's chef, including a course based around the local seafood and with accompanying local wines. Your crew can arrange for a live music on board courtesy of a local musician, to provide an incredible ambiance.

Day 7

Great Barrier Island

Escape into nature with a visit to Great Barrier Island, which is entirely off the grid due to its inhabitants relying on renewable energies. Discover one of the walking trails leading through the native forest which lead to the island's secluded hot water springs. Along the way you will be witness to a rich variety of fauna and flora. Diving around this island is a must and experience its up and coming gastronomic scene in the evening.

Day 8

Goat Island

Spend the day at Te Hāwere-a-Maki, known as Goat Island, a tiny island home to New Zealand's first marine reserve. The best way to explore this island is by going snorkelling or scuba diving to discover its incredible marine life. In the afternoon, hike along one of the island's coastal walkways for spectacular views, and then enjoy an evening picnic on the beach.

Day 9

Hen and Chicken Islands

Spend the day at sea en route to the Bay of Islands. On the way, make a stop at Hen and Chicken Islands, known for their rich fauna and flora and their untouched natural habitat. This nature reserve is home to a variety of species, including tīeke (saddlebacks) and tuatara, an ancient reptile native to New Zealand. After taking some time to explore this natural haven, relax back on your yacht as your journey continues.

Day 10

Russel

Arrive at Russel, a charming and historic town which is also the perfect base for exploring the Bay of Islands. From here you can visit Waitangi, where the treaty between the Maori and the British was signed in 1840. Spend the afternoon hiking the Cape Brett Track to experience some incredible views and visit its famed lighthouse.

Day 11

Bay of Islands

Depart from Russel port to cruise around the 150 islands that make up the Bay of Islands, an iconic destination offering postcard views both day and night. Spend the day discovering historic Maori sites and idyllic beaches. Navigate through the Hole in the Rock and admire this magnificent natural monument, and keep an eye out for dolphins and whales.

Day 12

Kawau Island

One of the largest islands making up the Hauraki Coast, Kawau island offers you the perfect balance of history and nature. Visit the beautiful Mansion House Bay and learn about New Zealand's complex colonial past, before having fun on a kayak tour around the island. In the evening, make the most of your anchorage at Vivian Bay by visiting the 5* hotel Kawau Beach House which boasts a luxury restaurant and bar surrounded by breath-taking sea views.

Day 13

Tiritiri Matangi

Anchor in the South-West of Tiritiri Matangi Island, a wildlife sanctuary and one of the most important conversation projects in New Zealand. The island is home to many species of endangered birds and reptiles which you can discover on a guided walk. The island is also home to New Zealand's oldest operating lighthouse, and the pristine Hobbs Beach which is perfect for an afternoon swim.

Day 14

Auckland

Your charter finishes back in Auckland, where after disembarking and saying goodbye to your crew you can stay and explore for as long as you desire. Pay a visit to the Auckland Art Gallery, often described a haven of culture and tranquillity, and hike up One Tree Hill, a volcanic peak with lots of importance in Maori Culture. Do some last-minute souvenir shopping before returning home after an incredible adventure.

Yachts for Charter -
New Zealand
CRAZY HORSE

Length : 22.77 m / Passengers : 6

Special features : - Strong history of sailing performance- Extensive range of snorkelling gear, free diving equipment and water toys- High-quality fishing gear- Apple TV...

THANDEKA

Length : 37 m / Passengers : 8