Patagonia
From the first Europeans to lay eyes on the landscapes of Patagonia, it's wonder has been embellished. Although a not very well-known charter destination, Southern Patagonia is an exciting off-the-beaten track option for those seeking exploration and adventure from the comfort of a yacht.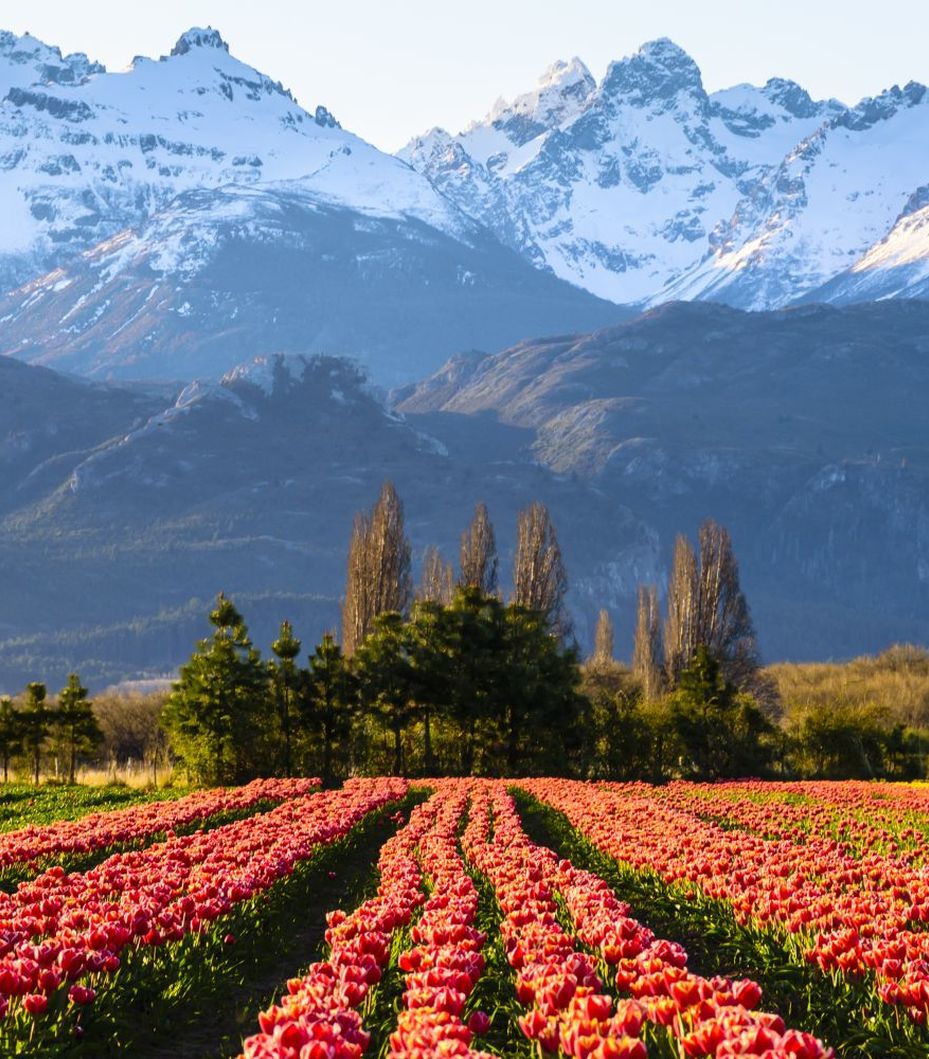 Discover
raw beauty like nowhere else...
Between snow-capped mountains and glacial fjords, Patagonia offers paradise for a true adventurer with plenty of landscapes to explore. Beyond jaw-dropping views, Patagonia is home to unique vegetation and a diverse range of mammals that gather in this destination like no other.
When to go :
The best time to go is from November to March
Charter
Highlights in Patagonia
We have selected our highlights for this adventure destination in South America to give you a taste of what is waiting for you during your luxury yacht charter in Patagonia.
01

History

and Culture

Although Patagonia has an arguably inhospitable climate, indigenous people lived in the region long before any Western exploration. Historical stie Cueva de las Manos, a cave covered in hand stencils in Patagonia, is one of the best pieces of material evidence of early human species.

02

Stunning

Views

Those who visit Patagonia are always taken aback by the marvellous views of ancient glaciers and the unspoiled wilderness of mountainous regions, fjords and forests. With a rare sense of pure freedom attached, Patagonia is infinite in beauty.

03

Flora

and Fauna

Beyond the impressive range of vegetation visible in Patagonia, visitors can also experience close encounters with dolphins, shales, s and killer whales, among many other endangered species. Bird watching is a particular draw of Patagonia.
Suggested
itinerary for a cruise in Patagonia
At BGYB, we offer our clients a bespoke itinerary for their charter holidays. Please contact us to receive your very own personalised charter itinerary.
Day 1

Puerto Natales

Beginning your charter in Puerto Natales, capital of the Ultima Esperanza province, you will have the opportunity to explore this thriving town featuring boutique beer sellers and a plethora of tourists on their way to the Torres de Paine National Park. Described as 'one of the most spectacular sights', the park is home to native llamas (Guanaco) and beautiful azure-blue lakes, perfect for a day of kayaking.

Day 2

Puerto Profundo

Cruising towards Puerto Profundo, you will sail through the heart of Alacafules National Park, renown for its many uninhabited islands full of obscure native wildlife. Originally occupied by the Alacalufes Indian Tribe, some of whom can still be found living there today, the area provides great anchorage in the case of unfavourable weather during your charter. Feel free to kayak ashore and discover the wild flora and fauna in action.

Day 3

Isla Carlos III

Located in the Magellan Strait, Carlos III Island resides near the Francisco Coloane Maritime Park, a protected coastal area for scientific research. From the decks of your yacht, you may be able to spot the colony of humpback whales who return annually between December and April. One of the most unforgettable experiences in Patagonia, you could kayak through magical fjords, listening to the songs of whales and exploring historic lighthouses ashore.

Day 4

Seno Almirantazgo

Almirantazgo Sound, or Seno Almirantazgo in Spanish, is a relative maze of breath-taking Chilean fjords, which you can take in comfortably from your luxury yacht. With expert knowledge onboard, hiking across glaciers and trekking along several rivers, only accessible on foot, is possible. The isolated lakes offer Patagonian trout to those who wish to make use of the weather-protected waters, or exciting fly-fishing for some fun!

Day 5

Seno Chico

Sailing towards Seno Chico, your yacht will cruise down the Cockburn Canal and enter the Alberto de Agostini National Park, a newly listed UNESCO gem. An interesting array of wildlife can be observed here including sea lions, elephant seals and sea otters, among distinctive biodiversity. Take in the awe-inspiring Marinelli Glacier, one of the largest in the region, which flows into the Darwin Mountain Range.

Day 6

Caleto Gomez

Marking the entrance to 'glacier alley' Caleta Gomez is located towards the southern side of the Alberto de Agostini National Park, which features an unusual coastline studded by fjords. This inlet flaunts imposing glaciers which spill down wonderfully straight into the sea. A helicopter sightseeing tour would be fantastic in this region in order for guests to take in the magnificent views from above.

Day 7

Garibaldi Glacier

One of only three glaciers in Patagonia actually gaining mass, the Garibaldi glacier is a feat to behold on any charter in the region. Cruising down the fjord, it is impossible to miss the floating chunks of ice, each a stunning shade of bright green and blue, as well as the various waterfalls plunging delicately down the various mountainsides. As the area attracts many tourists, you may prefer to visit the equally impressive Ventisquiero glacier.

Day 8

Seno Pia

Travelling into the heart of the Darwin Mountains, you will come across Seno Pia; a Y-shaped inlet bordered by striking granite cliffs and sharp snowy peaks. With several anchorage points, a yacht charter can offer the chance to jump ashore and hike up to some magnificent vantage points for panoramic views and stunning photography opportunities. For a more peaceful experience, you may prefer a solo kayak through the spectacular silence.

Day 9

Bahia Yendegaia

'Deep Bay' or Bahia Yendegaia performs as a landscape bridge between the equally fabulous Alberto de Agostini National Park in Chile and Tierra del Fuego National Park in Argentina. The Yendegaia National Park itself is composed of mountains, forests, lakes, rivers and glaciers; containing a diversity of flora and fauna. As unique bird species have been spotted there throughout the years, the park is a superior spot for bird watching.

Day 10

Puerto Williams

A trip to Patagonia incomplete without a visit to Puerto Williams, the southernmost city in the world, you will disembark from your yacht here. Before heading home, it is essential to get a taste of their famous fresh king crab, caught daily from the freezing waters of the Beagle Channel nearby. If you interested in any further exploration, there are many hiking trails nearby, known for their gruelling nature but unmissable views.