Spitzbergen
Sailing northwards in pursuit of a polar summer is an experience like no other.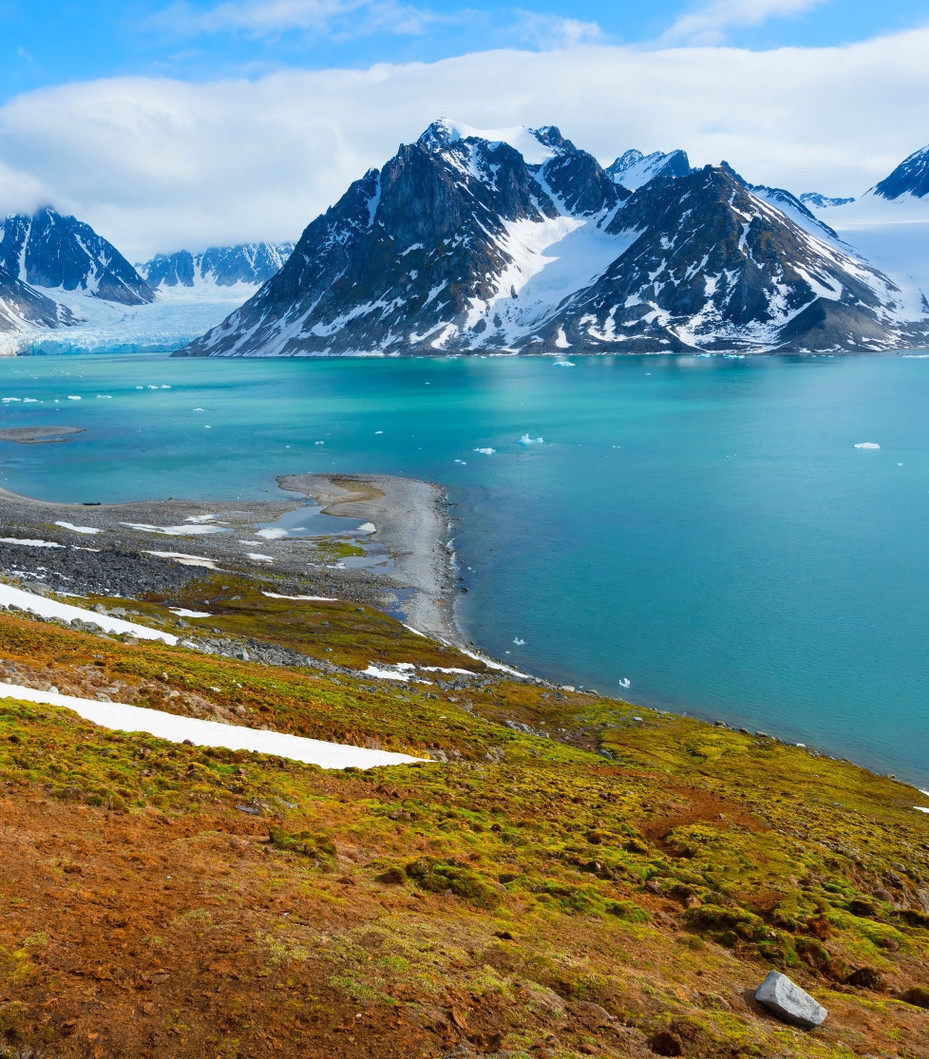 Yachting
in Northern Seas
For wildlife enthusiasts, summer is the ideal time to spot Arctic fauna. The abundance of migrating fish brings into view the polar bears, arctic fox, whales and birds giving a natural vibrancy to this extraordinary region.
When to go :
The best time to go is from June to September
Charter
Highlights in Spitzbergen
We have selected three highlights for a charter in Spitzbergen so you can get a taste of what this fabulous charter destination has waiting for you.
01

Polar

bears and arctic fauna

The indigenous inhabitants of the Svalbard region belong to a complex family of arctic wildlife which make for a vibrant hub of animal activity. Count the celebrations of polar bears stalking their prey in the world's most extreme climates.

02

Glacial

activities

Mountainous surroundings with several of the northern hemisphere's most imposing glacial structures, Spitzbergen's landscape is the ideal destination to participate in snow sports of all kinds: snow-trekking, snowmobiling , skiing and dog sledding.

03

Conscientious

chartering

Chartering a yacht in the Svalbard region is no ordinary charter experience. Your journey will be of true expedition pedigree and presents you with the opportunity to learn more about one the globe's most endangered territories. Onboard an eco-friendly yacht, see first hand preservation efforts.
Suggested
Itinierary
At BGYB we create bespoke charter itineraries for our clients. Contact us for your very own personalised itinerary.
Day 1

Longyearbyen

After the 3 hour flight from Oslo to Svalbard's only airport in Longyearbyen, your crew will greet you and escort you to your yacht for embarkation. Once settled, explore all that this artic town has to offer; make the most of tax-free shopping, visit the world's northernmost brewery, and celebrate your first night of charter with a meal at the Huset Restaurant, which specializes in Nordic techniques and has a critically acclaimed wine cellar.

Day 2

Isfjord

Sail along to Isfjord, which translates to 'Ice Fjord', and is the largest fjord on the west coast of the archipelago. It is also home to a wealth of fauna and flora; you have a good chance of sighting some walruses or puffins. In the afternoon, head to the Isfjord Radio Hotel where they can organize a snowmobile or dogsledding adventure for you. Afterwards, you can relax in their sauna with incredible views over the artic scenery.

Day 3

Kongsfjorden

Continue up north to the glacial fjord Kongsfjorden, which is home to a rich biodiversity. Relax on the deck of your yacht as you spot ringed seals, beluga whales, walruses, and various species of seabirds. In the afternoon your crew can organize for you to enjoy a thrilling kayak tour of the fjord, before returning on board and warming up again with a delicious meal prepared by your chef.

Day 4

Raudfjord

Sail to Raudfjord, the westernmost fjord on the island of Spitzenberg, which has multiple good cruising spots. Enjoy lunch on board before going for a guided hike around the mountains surrounding the bay, where you can spot native birds and artic foxes. Spend the evening back on board your yacht and enjoy dinner surrounded by panoramic views of untouched nature.

Day 5

Magdalenefjorden

Head to Magdalenefjorden for surroundings made up of tundras, icebergs, and dark-sand beaches which will take your breath away. Go for a walk along the beach and admire its scenery composed of mountains and glaciers, and in the afternoon go polar bear spotting (with a trained guide, of course) to encounter these magnificent creatures in their natural habitat.

Day 6

Ny-Ålesund

Sail back down to Ny-Ålesund, the world's northernmost settlement, which has an interesting mining past and is now a research station. Your crew can organise a guided tour for you to learn about the past of this small town such as its role in Roald Amundsen's expedition to the North Pole. Spend the afternoon either kayaking, skiing or on a snowmobile, depending on the season.

Day 7

Barentsburg

Spend the day in Barentsburg for a change of scenery, as this mining settlement by the sea has strong Russian influences in both its culture and architecture. Pay a visit to the only operating coal mine in the world open for tours, the beautiful Russian Orthodox church, and the husky kennel. In the evening visit the Restaurant Rijpsburg and the Icebreaker Bar Krasin, for specialty dishes based around artic fish and traditional Nordic liquors.

Day 8

Pyramiden

Today you will be transported back in time to the USSR with a visit to Pyramiden, named by the National Geographic as 'one of the world's most fascinating ghost towns'. The buildings are pretty much exactly as they were left when the town was abandoned due to the closure of its mine in 1998. Pyramiden is also home to the northernmost film-stock cinema in the world, and the Pyramiden Hotel, where you can unwind with some locally brewed beer.

Day 9

Longyearbyen

Sail back to Longyearbyen for disembarkation, where after saying goodbye to your crew you can seek out your final glimpse of whales and reindeer, and go dog-sledding in the artic wilderness. Have lunch at the Restaurant Nansen to savor the unique combination of Artic produce combined with Asian flavours, and make a stop at Freune to pick up some local handmade chocolates before going to the airport.

Yachts for Charter -
Spitzbergen