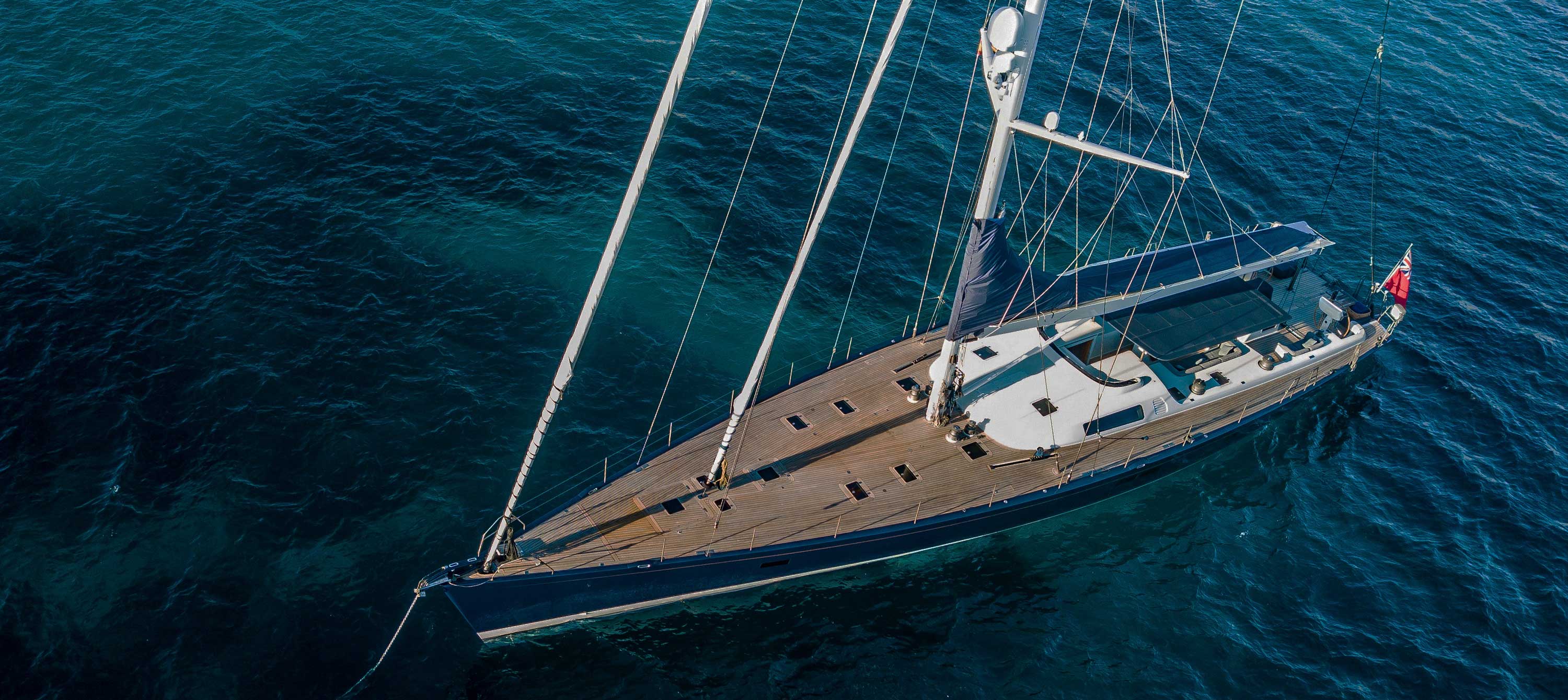 Press
Publications
BGYB and its yachts regularly appear in the international press. You will find here our latest press publications.
Publications
Classic sailing yacht WINDWEAVER presented by Boat International magazine
The beautiful classic yacht WINDWEAVER OF PENNINGTON is featured in the renowned Boat International magazine. WINDWEAVER is a One off Design Ketch built in 1998 by Midship Boat Services. She has 3 cabins to accommodate 7 guests on board. Read the article...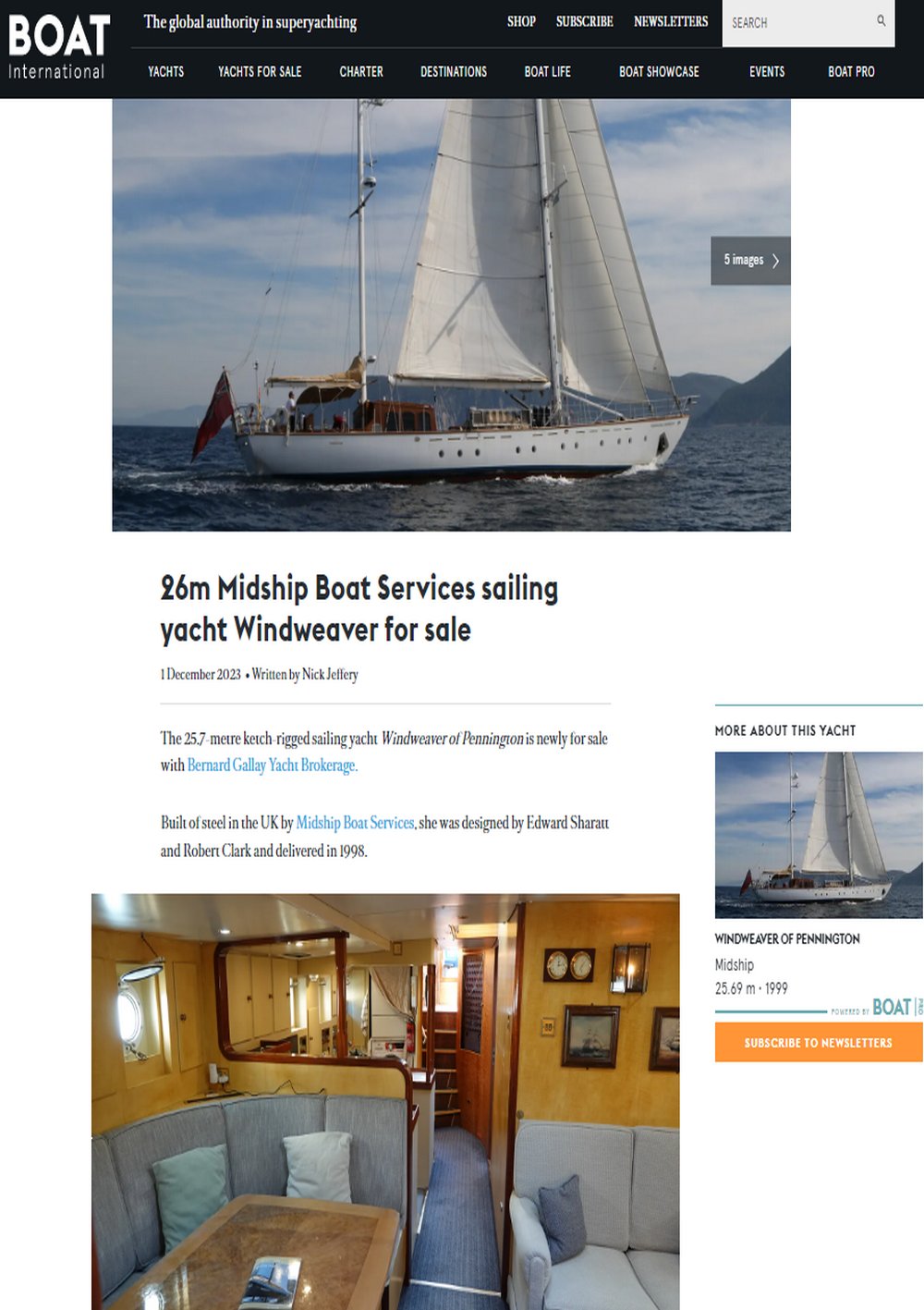 Our press
publication archive
As a key player in the yachting industry, BGYB invite you to cast an eye at some of the magazine, newspaper and online publications concerning the yachts we have represented, our company's successes and our collaborators' work.
Article in the Boat International website : S/Y 37 m Ed Dubois RADIANCE Sold !

On the occasion of the sale of the magnificent 37 m Ed Dubois RADIANCE, Boat International mentions BGYB in the News section of its website. Bernard Gallay represented the buyer in this sale.

Le Nouvel Economiste : BGYB x YYachts at Cannes Yachting Festival 2022

On the occasion of the Cannes Yachting Festival 2022, Le Nouvel Economiste published an article on the recent announcement of collaboration between BGYB and the German yard YYachts. BGYB will exhibit two yachts: a CNB 93 SAVARONA and a 104ft Trehard Sloop ASAHI.

Superyachts.com - IL GATTOPARDO Sold !

Bernard Gallay Yacht Brokerage have announced the sale of 35.35m M/Y IL GATTOPARDO. Delivered in 2012 by Pemare and refitted in 2019, she is the yard's second Amer 116 model; comfortably accommodating six guests within a contemporary, opulent interior spread across three levels.

The Nouvel Economiste quotes Bernard Gallay, article entitled "Le marché de la plaisance en eaux troubles".

We are delighted to present you the article written by Le Nouvel Economiste, where the name of Bernard Gallay Yacht Brokerage is mentioned. The article presents the market and the future of used boats.

Boat International - Open Season Sold !

The 31.3 metre sailing yacht Open Season has been sold in-house and renamed Spirit of Malouen X, with Youri Loof of Bernard Gallay Yacht Brokerage representing both the seller and the buyer.

Superyachts.com

Superyachts.com wrote an article in connection with the sale of OCEAN SAPPHIRE, in 2015 and 2021 by BGYB.

Multicoques Mag n°210

Bernard Gallay Yacht Brokerage appears in the December / January 2022 issue of Multihulls Mag n°210. It is a magazine that presents multihulls from 20 to 70 feet. In this issue, we present the GP 70 catamaran. This catamaran boasts a very high performance, is comfortable and able to sail around the world. It can be expected to be delivered in 12 months.

BGYB | Publication in the MEDEF Magazine

Bernard Gallay Yacht Brokerage appears in the Magazine du Mouvement des Entreprises de France Paris! MEDEF is the leading network of entrepreneurs in France. The magazine has given us a page to present the offers (p.145) that we offer to our customers.

Le Nouvel Economiste August 2021

The Nouvel Economiste published an article "Renting a boat, an affordable luxury" in n°2082 of August 2021. Read the full article.

"Le Figaro Propriétés" Magazine n°190

Le Figaro Propriétés is the top-of-the-range real estate magazine of the Le Figaro group and a privileged partner of BGYB. We are present with a full page in the April-May 2021 edition (n°190).

Tip & Shaft : Bernard Gallay and the Vendee Globe

BGYB is pleased to present an Article dedicated to our company on Tip & Shaft, media dedicated to competitive sailing (French article).

ELEONORA featured in Financial Times Magazine

Discover the feature on 162.5' Classic Schooner ELEONORA in the Financial Times magazine

Multihulls World 172 : GP 70

The construction project GP 70 is quite successful in magazines. Multihulls World published a small article about this project in the N°172 July/August 2020 edition. Click below to read it.

Yacht Investor N°35

BGYB is taking part in the Yacht Investor Magazine N°35, pages 49 to 59 in the Brokerage and Charter section. Please click "visit" below to read this edition !

GP 70 : Article on the Multihulls World website

Multihulls World published an article regarding the GP 70, a one off project signed by VPLP. Click on the image to read the article!

Le Nouvel Economiste - May 2019

"Le Nouvel Economiste" is a French newspaper which made an article about the progress of the boating industry this years. It appears that the charter (rent a boat with a crew) is an increasing market, and now renting a yacht or a boat is more accessible. For this reason, BGYB appears in the article as we are a main actor on the market and in this region with more than 30 luxury yachts for charter.

"Classic Boat" Magazine Interview

Bernard Gallay shares some of his more memorable experiences from his time in the yachting industry in a feature in the July edition of Classic Boat.

TwinJet Magazine : Interview with Bernard Gallay

Discover the interview of Bernard Gallay, founder of BGYB, in the TwinJet Magazine (interview in French)

Le Nouvel Economiste - April 2016

Article on the french boat market, including comments from Bernard Gallay.Feature on BGYB boats and services : MARI-CHA III; NOMAD IV; MAGIC CAT

Signature Magazine - Article about 100' Finot Conq NOMAD IV

Read here the article in Signature Magazine about NOMAD IV and Pascal Conq, creator of exceptional sailing yachts.