Bergen,
Norway
Looking for the dream vacation? Allow yourself to be tempted by the magic of a luxury yacht charter in Norway and discover the sublime landscapes of this most extraordinary country.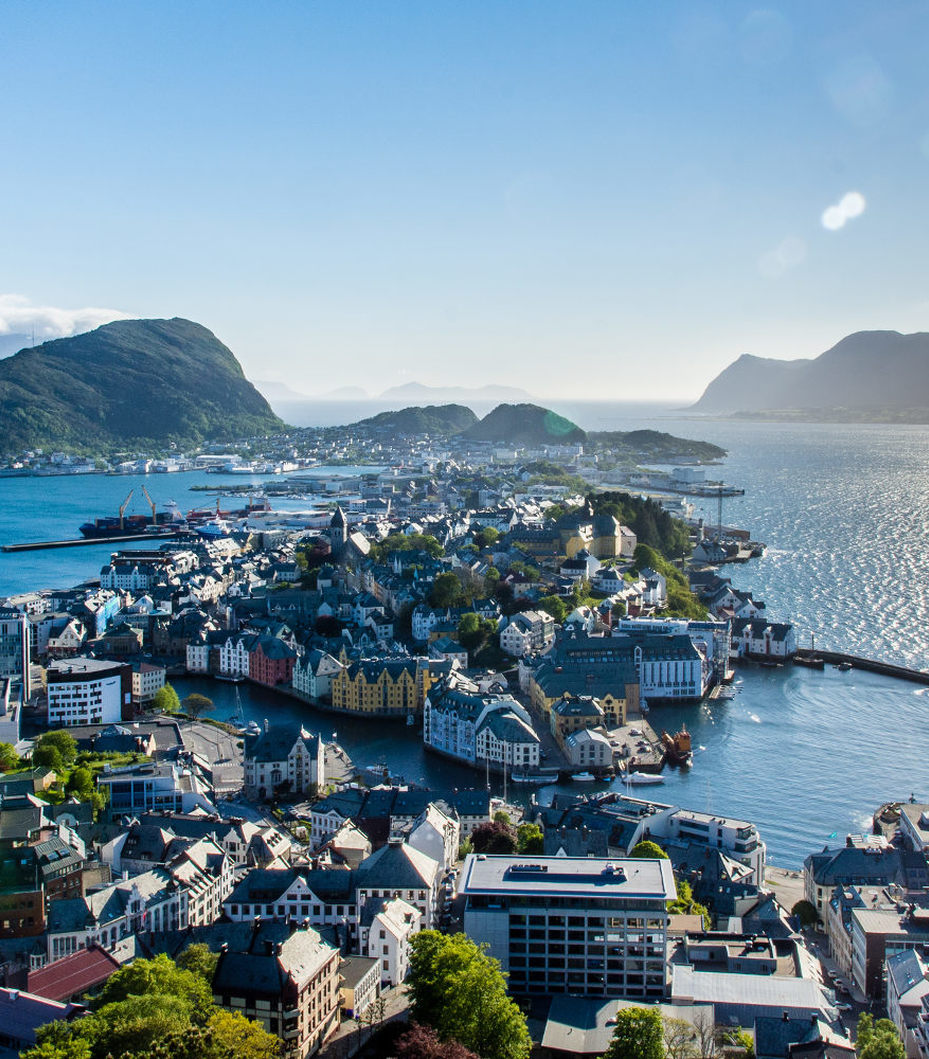 Charter
a Yacht in Norway
Treat yourself to an unforgettable stay, discovering Norway aboard a luxury yacht. Cruising these waters, offers you the unique chance to experience sailing in the fjords. Take advantage of the many spectacular stopovers and discover the quaint beauty of the shoreline Norwegian villages.
When to go :
The best time to go is from June to September
Charter
Highlights in Bergen, Norway
We have selected three highlights for a charter starting in Bergen, Norway so you can get a taste of what this fabulous charter destination has waiting for you.
01

Discover

Norway's Fjords

By opting for a yacht charter, you will have the chance to truly admire the Norwegian fjords up close. To name but a few, Sognefjord, Geirangerfjord along with their waterfalls and snow-capped mountains await your discovery. Get ready to create some memories which will stay with you forever !

02

Bryggen

Hanseatic Wharf

One of the best spot's in Bergen, this old trading port is made up of quaint wooden houses and narrow streets, filled with specialty restaurants, artisanal workshops and an array of boutiques. Discover its history by visiting its Middle Age ruins, and make a stop at the fascinating Bryggen Museum.

03

Bergen

Fish Market

No trip to Norway is complete without a taste of its famed seafood, and there is no place better to try it than the Bergen Fish Market. Dating back to the 1200s, this is one of the most visited outdoor markets in Norway, and it is overflowing with fresh, locally sourced produce.
Suggested
Itinerary
At BGYB we offer our clients bespoke itinerary for their charter holidays. Please contact us to receive your very own personalised charter itinerary.
Day 1

Bergen

Embarkation at Bergen, where upon arrival you can greet the crew and enjoy a delicious welcome lunch on board. Spend the afternoon exploring Bryggen, also known as the "Hanseatic Wharf" – a remnant of Bergen's trading past and now the perfect spot for some last minute shopping thanks to its array of shops housed in charming wooden buildings. Visit one of the local restaurants for dinner, or return to your yacht for a great meal on board.

Day 2

Langfoss Falls - Haugesund

Your crew will set off early today for a morning spent sailing to LangfossFalls-Haugesund, where you will arrive early afternoon. Enjoy lunch onboard before going to explore some of Norway's most impressive scenery, the perfect spot for a hike amongst its fjords and waterfalls. Ask your crew to organise a helicopter ride to the Langfoss Falls for views that will take your breath away.

Day 3

Fedje

Another relaxing morning spent sailing as your yacht heads for Fedje, often known as 'the village in the sea'. Arrive just after lunchtime, and your crew will prepare a tasteful BBQ lunch on shore. Visit its famous lighthouse, go for a walk amongst its heathlands for beautiful views of the sea, or sail amongst its hundreds of islets which are a great spot for fishing – ask your crew to prepare a fresh catch for dinner.

Day 4

Kaupanger

Sail to the small town of Kaupanger, which has a population of around just 1000 people, where you will arrive mid-afternoon. Go for a walk to explore this quaint Norwegian town and visit its museum, and then get ready for an afternoon of water sports. Your crew can take you around Stavanger in the tender, or for more excitement, have some fun on jet skis, water skis, or paddle boards.

Day 5

Kaupanger – Sognefjord

Enjoy a filling breakfast on board before some sight-seeing – pay a visit to Kaupanger's wooden stave church, which dates back to the 12th century and is registered as a Norwegian Cultural Heritage Site. Take in the beautiful views of the area with a cycle to Vesterland Feriepark, where your crew will provide a delicious picnic which you can enjoy whilst surrounded by nature. Late afternoon, head back on board and set sail for Songefjord.

Day 6

Sognefjord

Named by National Geographic Traveler magazine as "the world's most iconic destination", Sognefjord is an unmissable part of your Norwegian adventure. The second longest fjord in the world, Sogneford's dramatic mountain views will astound you. Go canoeing to truly be in the center of its beauty, and if you're lucky, you might even spot a whale.

Day 7

Hardbakke

Sail to Hardbakke where you will arrive around midday, and enjoy a large brunch to prepare you for a day spent hiking. Your crew can organize for a local guide to help you discover the incredible fauna and flora of Norway, or for something less strenuous, hop on one of the lighthouse safari cruises which depart from the Hardbakke harbor.

Day 8

Geirangerfjord

Spend the morning on board as you sail to the Geirangerfjord. This fjord is another must-see during your charter, being a listed World Heritage Site since 2005.Take a boat tour through the fjord and witness its incredible waterfalls, including the romantic 'de Syv Søstre' (the seven sisters) and 'Friaren' (the suitor), who face one another. Afterwards, explore some of the enchanting abandoned farms in the area.

Day 9

Ålesund

Sail to Ålesund, one of Norway's most beautiful cities, and have a final brunch on your charter yacht before saying your goodbyes to the crew. Take some time to explore the city of Ålesund and appreciate its beautiful Art Nouveau architecture, and walk up to the Fjellstua viewpoint for some incredible views. Stop at a restaurant to sample the local seafood before heading to the airport to return home.

Yachts for Charter -
Bergen, Norway