Lofoten
Islands, Norway
Looking for the dream vacation? Allow yourself to be tempted by the magic of a luxury yacht charter around the Lofoten Islands in Norway and discover the sublime landscapes of this most extraordinary country.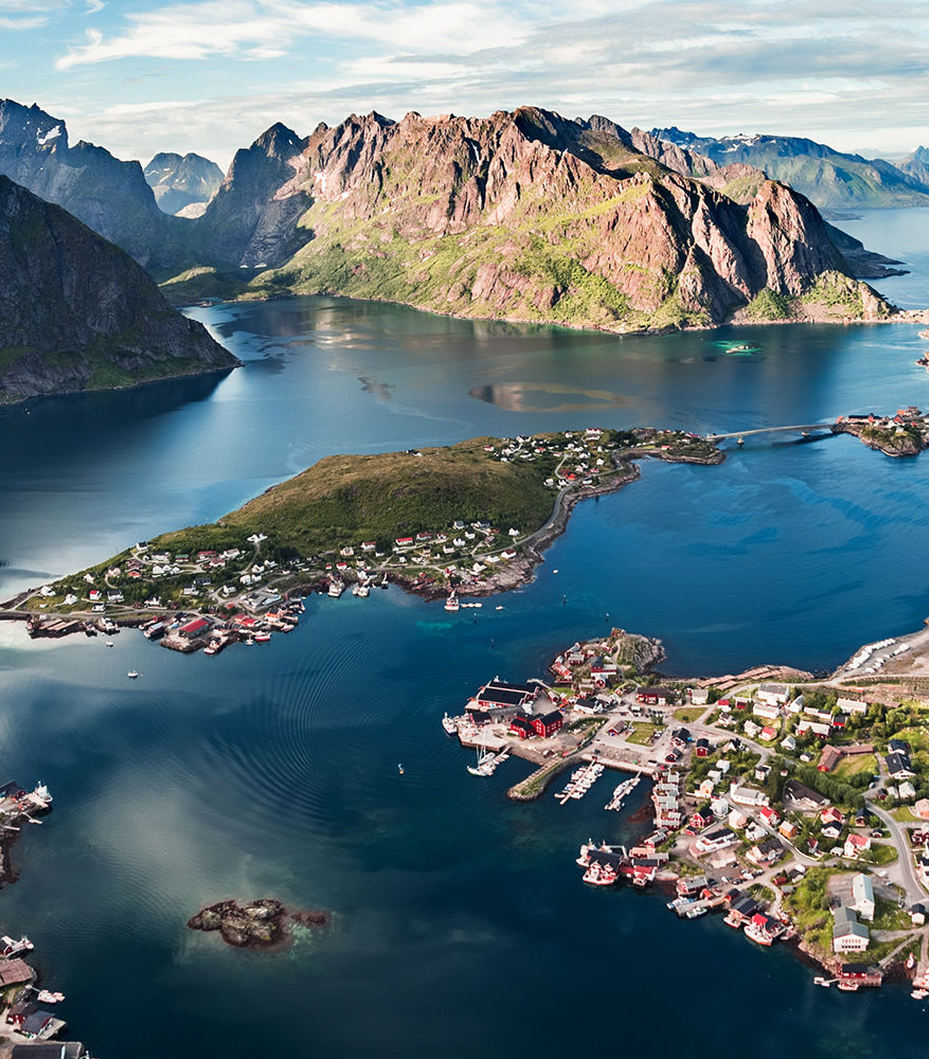 Yacht
Charter in the Lofoten Islands, Norway
Treat yourself to an unforgettable stay, discovering the Lofoten Islands aboard a luxury yacht. Cruising these waters, offers you the unique chance to experience sailing in the fjords. Take advantage of the many spectacular stopovers and discover the quaint beauty of the shoreline fishing villages.
When to go :
The best time to go is from June to September
Charter
Highlights in the Lofoten Islands
We have selected three highlights for a charter in Norway so you can get a taste of what this fabulous charter destination has waiting for you.
01

Northern

Lights

Chartering a yacht in Norway offers the wonderful opportunity to discover the Lofoten Islands. This popular archipelago is beloved by tourists thanks to its untamed landscapes and its ideal positioning to see the renowned aurora lights display in winter, or to witness the Midnight Sun in summer.

02

Fishing

Villages

The Lofoten Islands will transport you back in time with their countless small fishing villages. See how the locals live by wandering amongst their quaint red fishing huts, ask your crew to organize a trip out on a local fishing boat, and of course, sample the local seafood.

03

The

Fjords

By opting for a yacht charter, you will be able to witness the Fjords of the Lofoten Islands up close – many of them are only accessible by boat. Don't miss Trollfjord, one of the shortest yet most striking of the region, to witness some stunning views from the comfort of your luxury charter yacht.
Suggested
Itinerary
At BGYB we offer our clients bespoke itineraries for their charter holidays. Please contact us to receive your very own personalised charter itinerary.
Day 1

Svolvær

Your charter begins at Svolvær, the largest town of the Lofoten Islands. Meet your crew and enjoy a delicious first lunch on board your yacht, surrounded by incredible views which set the scene for your charter. Spend the afternoon exploring the town; with an array of high-class restaurants, art galleries, and shops, it's the perfect place to wander around. In the evening, the start of your charter with a cocktail at the magnificent Magic Ice Bar.

Day 2

Nusfjord

Spend the morning relaxing on board as your yacht heads for Nusfjord, one of the oldest and best-preserved fishing villages in Norway. Once arrived, have lunch on board before spending the afternoon discovering the history of Nusfjord – your crew can arrange an authentic fishing experience on a local fishing boat. In the evening, keep an eye out from your yacht for the chance to see the Northern Lights or the Midnight Sun light up the sky.

Day 3

Hamnøy

Sail for around an hour to Hamnøy, on Moskenes Island. This charming fishing village will grace you with some stunning views, as its quaint, red fisherman cabins are framed by magnificent mountains. Have lunch on board before going to explore the village, trying your hand at some fishing, and enjoying your yacht's jet skis or paddle boards in the calm waters of the bay.

Day 4

Reine

Start your day with a short sail to Reine, one of the most iconic villages of Lofoten thanks to the countless photographs of its breathtaking scenery. Enjoy a seafood lunch at one of the local restaurants, and then undertake the hike up the recently opened stone staircase of Reinebringen Mountain for some incredible views. Not one for hiking? You could also discover the Reine Centre of Arts and Culture, which showcases some local Norwegian artists.

Day 5

Sørvågen – Å

Sail for less than an hour to Sørvågen, a vibrant fishing village with incredible surroundings. Make the most of its excellent fishing lakes before heading back on board your yacht for lunch. In the afternoon, undergo a short sail to the village Å. Explore the history of the Lofoten Islands by wandering around this preserved fishing village and visiting its museums, before returning to your yacht for dinner.

Day 6

Henningsvær

Have a relaxing morning onboard as your crew set off for Henningsvær, one of the trendiest villages of Lofoten, despite its population of around only 500 people. Once arrived, go to the Henningsvær Bryggehotell for lunch, and try their signature dish which is based around locally sourced stockfish. Spend the afternoon exploring all this village has to offer; it is filled with cozy cafés, artisan boutiques and a very unique football pitch.

Day 7

Skrova

Sail for around an hour to the small island of Skrova, often nicknamed the Hawaii of Lofoten. Spend the morning relaxing on its white sand beaches and going swimming in the sea, before enjoying a delicious beach picnic prepared by your crew. In the afternoon, go for a hike up to the Skrova top for some incredible views before returning on board to unwind with dinner.

Day 8

Trollfjord

After breakfast, set sail for Trollfjord around two hours away. At only 3km long it's one of the shorter fjords of Norway, but that doesn't make its beauty any less striking – it is surrounded by dramatic mountains, and only accessible by boat. Go kayaking in the fjord, and do some birdwatching. Enjoy your final dinner on board and try to catch a final sighting of the Northern Lights or the Midnight Sun, depending on the time of year.

Day 9

Svolvær

On your final day of charter, take in the beauty of the Lofoten Islands for the final time as you sail for around 2 hours back to Svolvær. Once arrived, your crew will prepare a last lunch on board before you disembark and say your goodbyes. Browse the local shops for some souvenirs of your Norwegian adventure before heading to the airport.

Yachts for Charter -
Lofoten Islands, Norway
DWINGER

Length : 48.5 m / Passengers : 11

Special features : - Longest freestanding mast- Designed by Gerard Dijkstra (e.g. one of the head designers of Maltese Falcon)- Green (energy recovery through solar panels...

SANSSOUCI STAR

Length : 53.5 m / Passengers : 12

Special features : - One of the few remaining truly classic super yachts available on the market- Vast interior space to ensure comfort for all of your guests- Suited to...

HANSE EXPLORER

Length : 47.76 m / Passengers : 12

Special features : Tenders :2 x MK IV Zodiac tenders with Yamaha 4-stroke engines3 x 2-person Aire Sea Tiger inflatable sea kayaks (18 feet)Dive compressorDive equipment...