US
Virgin Islands
Are you dreaming of a cruise in the Caribbean? Charter a luxury yacht and enjoy an unforgettable vacation in the US Virgin Islands.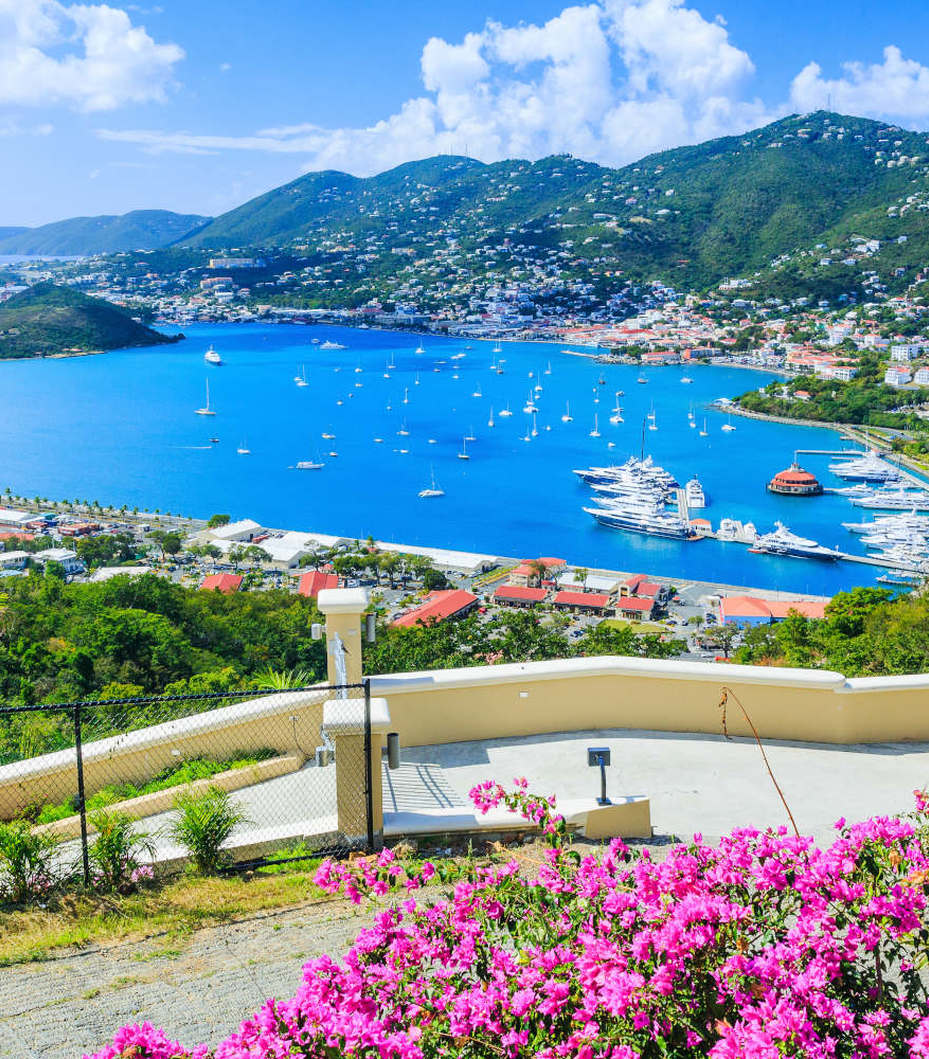 Yacht
Charter in the US Virgin Islands
Envisage spending your vacation in the US Virgin Islands. The heavenly beaches and turquoise waters of the Caribbean will bring your dreams to life. The skipper will take you from island to island whilst the crew caters to caters to your every need on board the luxury yacht.
When to go :
The best time to go is from December to March
Charter
Highlights in the US Virgin Islands
We have selected our highlights for this dream destination in the Caribbean to give you a taste of what is waiting for you during your luxury yacht charter in the US Virgin Islands.
01

Buck

Island

Part of the Buck Island Reef National Monument, this uninhabited, protected island is a true natural paradise. Explore its large variety of rare native fauna and flora, such as brown pelicans and leatherback turtles, and go snorkeling around its beautiful coral reef.

02

Charlotte

Amalie

The historical center of the USVIs on the island of St Thomas, Charlotte Amalie is a must-see. It's famed for its duty-free shopping, historical monuments, and great restaurants and nightlife. It's also surrounded by incredible beaches where you can recover from all the excitement.

03

Snorkelling

Spots

The USVIs are home to a rich selection of snorkelling spots where you can witness the incredible diversity of its marine habitats. Ask your crew to organize a guided snorkel tour in the Virgin Island National Park for an unforgettable underwater experience.
Suggested
itinerary for a cruise in the US Virgin Islands
At BGYB we offer our clients bespoke itinerary for their charter holidays. Please contact us to receive your very own personalised charter itinerary.
Day 1

Maho Bay, St. John

Your captain will come and pick you up at the airport to bring you to American Yacht Harbour on the island of St.Thomas, where your luxury charter yacht will be waiting for you. Settle in as you sail to Caneel Bay, St John's, where you will enjoy lunch on board before going diving. Afterwards, head to Maho Bay, the perfect spot for going snorkeling with sea turtles before going for a stroll along the beach in the evening to enjoy the Caribbean sunset.

Day 2

Watelemon Cay, St. John

Enjoy breakfast on board, and then head to Whistling Cay on the tender – here your crew can organize for you to take a guided snorkeling tour which will teach you all about the local marine life. In the afternoon, your crew will head for Waterlemon Cay, where you can enjoy lunch before going on a small hike to the Annaberg ruins to learn about the history of the area. Relax on board in the evening with a beautiful meal crafted by your chef.

Day 3

Coral Bay, St. John

Have a relaxing morning on board with breakfast and do some snorkeling at Waterlemon Cay before you set off for Coral Bay. Have a unique lunch accompanied by cocktails at the floating taco truck, only accessible by boat. Spend the afternoon relaxing on the beach and doing some sunbathing, or ask your crew to get out your yacht's jet-skis for some excitement, before enjoying dinner back on board.

Day 4

Buck Island, St. Thomas

You have a 4-5 hour sail this morning, so sit back and enjoy the time spent out on the water. Arrive at Buck Island Reef early afternoon, and enjoy lunch on board before setting off to explore this national monument. Explore the incredible protected habitats and species here with a guided snorkeling session or walking trail, and in the evening, your crew will prepare a delicious BBQ dinner for you to enjoy whilst surrounded by nature.

Day 5

Sainte-Croix

Undergo a short sail to the island of St Croix, where you will anchor at the waterfront town Christiansted. Spend the morning exploring its charming courtyards and antique churches, and browsing its boutiques and galleries, then pay a visit to Fort Christianvaern for some culture. Stop for lunch at a local restaurant, then in the afternoon, head to Salt River Bay National Park for some kayaking and scuba diving.

Day 6

Water Island, St. Thomas

Another longer sail this morning as you head back up north to anchor at Water Island. Have lunch on board before spending the afternoon relaxing at Honeymoon Beach – lounge about on the beach with a cocktail from one of its bars, or rent a golf cart to discover the island. In the evening, your crew will prepare an incredible themed dinner on your yacht, suited to your preferences.

Day 7

Hassel Island, St. Thomas

Spend the morning going for a hike around Water Island, and discover its colonial past by visiting the ruins of the Carolina Point Plantation. In the afternoon, head to Hassel Island, where your crew can organize a guided kayak or snorkel tour for you to explore this beautiful area of the Virgin Island National Park. Late afternoon, sail to St Thomas, where you will anchor overnight at Charlotte Amalie.

Day 8

Charlotte Amalie, St Thomas

The capital of St Thomas, Charlotte Amalie will spoil you for choice with things to explore. If you're looking for a final day of relaxation it's surrounded by beautiful white sand beaches. If you prefer sightseeing, ask your crew to show you around, not missing Blackbeard's Castle, and of course the iconic 99 steps for some incredible views. In the evening, celebrate the last night of your charter with a meal at one of the great restaurants on shore.

Day 9

Charlotte Amalie, St Thomas

Your crew will prepare a big brunch on board for your final morning on board your charter yacht, after which you will disembark and say your goodbyes. Make the most of the duty-free shopping at Charlotte Amalie's shops and boutiques before heading to the airport for the end of an amazing adventure.

Yachts for Charter -
US Virgin Islands