Grenadines
Islands
From Saint Vincent to Grenada you have the ideal island trail to discover. The Grenadines offer the lifestyle and the exoticism that is expected from a Caribbean yacht charter holiday. With natural beauty as well as luxury developments on land, the Grenadines offer you it all.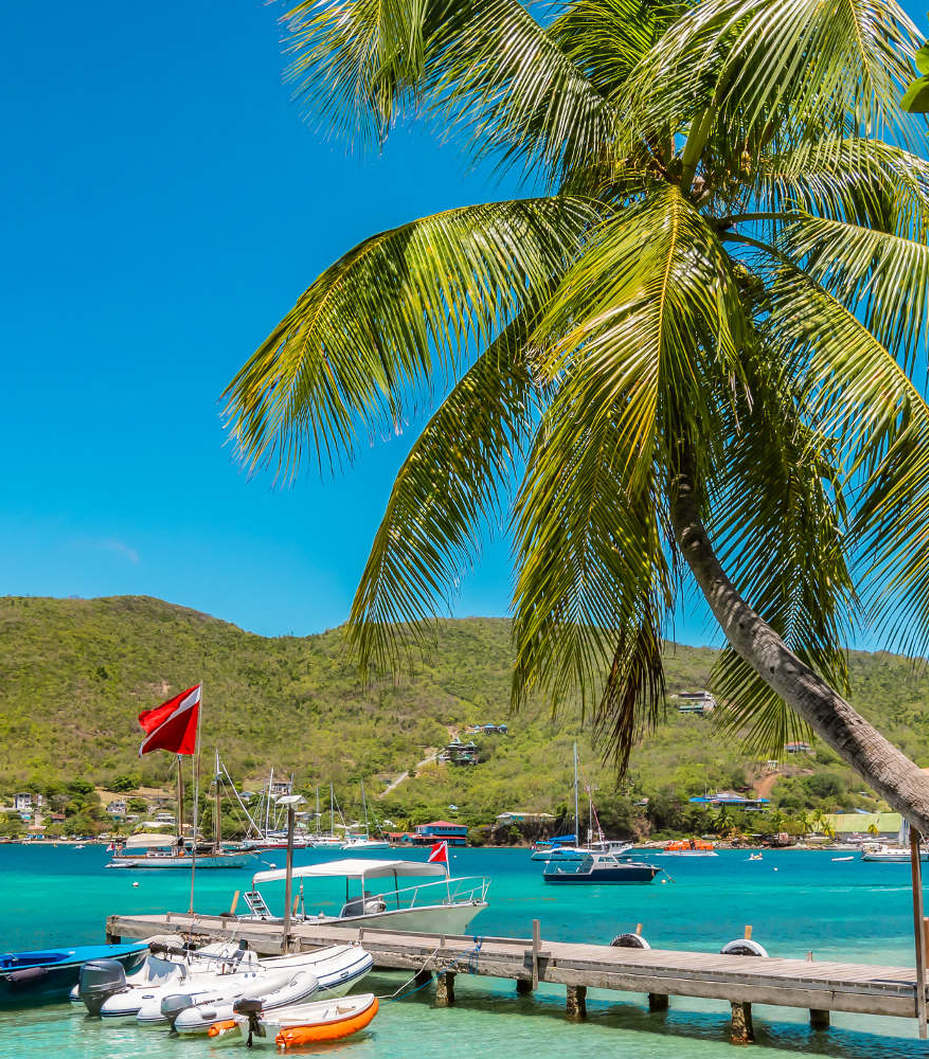 Island
hopping adventure
This chain of islands runs around an arc of several hundred miles; most are independent countries, each with separate cultures to discover. Relative to the Leeward Islands, this charter destination is very mountainous. Dramatic landscapes surround you as you cruise from one island to the next.
When to go :
The best time to go is from November to May
Charter
Highlights in the Grenadine Islands
We have selected three highlights for a charter in the Grenadine Islands so you can get a taste of what this fabulous charter destination has waiting for you.
01

Union

Island

Filled with remote beaches and coves, this destination is made for relaxation. For the more thrill-seeking charterers, however, the island is also the perfect stopover to participate in nautical sports. Diving, kite-surfing, paragliding, swimming with dolphins... this island is a hub of activity.

02

Mustique

This exquisite island is the pinnacle of exclusivity and luxury. This idyllic island is known for its magnificent beaches, coconut palm huts and mystical marine wildlife. Horseback riding is a popular activity along the paradisaical beaches of Macaroni Bay.

03

Tobago

cays

Tobago cays region is now a classified national park, testament to its extraordinary scenery and diverse wildlife. One of the top attractions, making nature-loving tourists flock to the destination each year, is the opportunity to swim with the turtles off Baradel above spectacular coral reefs.
Suggested
Itinerary
At BGYB we offer our clients bespoke itinerary for their charter holidays. Please contact us to receive your very ownpersonalised charter itinerary.
Day 1

Saint Lucia

Your charter begins on at St Lucia, a microcosm of all the Caribbean has to offer. Head to Marigot Bay where you can do some last minute shopping before embarking and enjoying lunch on board. In the afternoon, find yourself spoilt for choice with beautiful nature to explore; go diving or climbing around the mountains at Pitons bay, witness rich fauna and flora at the Diamond Botanical Gardens, or bathe in the warm volcanic waters at Piton Falls.

Day 2

Saint Vincent

Set off early to your anchorage at Wallilabou bay, one of the filming sites of the Pirates of the Caribbean. Afterwards, wander around the Montreal Gardens to witness an array of indigenous plants and wildlife. For some spectacular views, we can organise a tour up La Soufrière volcano, the highest peak on the island, or instead, visit Richmond Beach known for its unusual black sand.

Day 3

Bequia

After a relaxed breakfast on-board during the journey to Bequia, prepare for a day of nature on this beautiful island. The wreck and shallow caves found off the Island's coast are perfect for more advanced divers, whilst ashore you can climb Mount Pleasant or hike through the lush green scenery. Spend the afternoon browsing the seafront boutiques at Port Elizabeth, or visiting Bequia's turtle sanctuary.

Day 4

Mustique

Sail around Mustique Island and spend the morning enjoying the water toys from your yacht. Have lunch followed by an afternoon of relaxation at the legendary Basil's Bar – the perfect spot to watch the yachts, locals and fisherman all pass you by with the backdrop of the setting sun. In the evening, the bar becomes a hotspot for live music - especially on Jazz Wednesdays - and delicious cocktails, so enjoy a drink before returning back on board.

Day 5

Tobago Cays

Spend today cruising the stunning Tobago Cays – perfect for kitesurfing and snorkelling with the turtles. This series of white sanded cays bears witness to a diverse range of habitats including coral reefs, sea turtle nesting sites, and small systems of mangroves. The cays are also home to Le Petit Tabac, an isolated beach perfect for a private BBQ dinner accompanied by some steel pan musicians. Sail to Mayreau and anchor overnight.

Day 6

Mayreau

After breakfast, begin to explore Mayreau, a tiny island with a population of just 300, who will welcome you with open arms. Serene beaches line both sides of the island for those looking to relax, whilst walkers can challenge themselves with a steep hike up through the village and down to the opposite side of the island. Enjoy the beautiful views of the Tobago Cays whilst enjoying dinner back on board your yacht.

Day 7

Petit St Vincent & Carriacou

Spend the morning on the privately owned island of Petit St Vincent, a luxury beach resort designed to allow you to disconnect from reality. Partake in watersports or take a trip to the spa, and enjoy lunch with 5 star service before setting off to Carriacou in the afternoon. Once you arrive, enjoy its peaceful beaches which have escaped the normal tourist trail. For dinner, your crew can arrange for local, fresh lobsters to be brought on board.

Day 8

Grenada

On your final day of charter, spend the morning making the most of the seclusion of Carriacou by enjoying the water toys from your yacht, and snorkelling around its abundance of reefs. Have a final lunch on board before sailing to Grenada for disembarkation, and if you can, spend a few days there before flying home – its charming villages, stunning waterfalls and golden sand beaches are the perfect end to your Caribbean adventure.

Yachts for Charter -
Grenadines Islands