Martinique
& Guadeloupe
Visiting the islands of Martinique and Guadeloupe is an exceptional experience. Charter a yacht to discover dreamy beaches, lush vegetation, and picturesque hiking routes.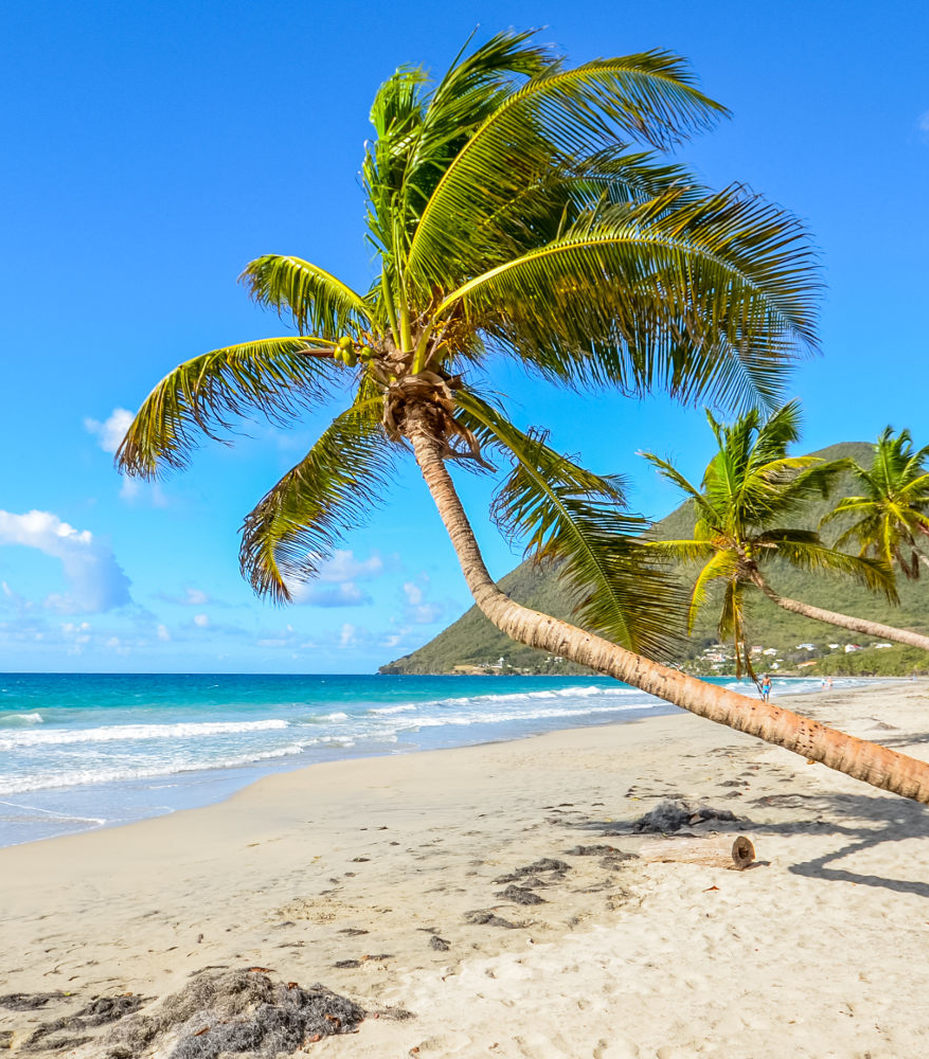 Yacht
Charter in Martinique and Guadeloupe
Martinique and Guadeloupe are part of the French Antilles. These tropical Caribbean islands are renowned for their fine sand beaches and crystal waters. Charter a luxury yacht with skipper and crew for your vacation and discover these islands for an unforgettable boat holiday.
When to go :
The best time to go is from December to April
Charter
Highlights in Martinique & Guadeloupe
We have selected our highlights for this dream destination in the Caribbean to give you a taste of what is waiting for you during your luxury yacht charter in Martinique & Guadeloupe.
01

Les

Anses-d'Arlet in Martinique

This picturesque coastal region will transport you to paradise – its beautiful beaches are perfect for swimming and scuba diving, whilst its charming creole houses and church will make you feel like you're in a postcard.

02

The

island of Dominica

The Caribbean's best kept secret, Dominica is a true utopia of natural beauty. Situated between Martinique and Guadeloupe, this island is filled with enchanting waterfalls, hot water springs, and tropical forests just waiting to be explored.

03

A

traditional rum distillery

No Caribbean adventure is complete without a splash of rum to wash it down, and Martinique and Guadeloupe present you with no shortage of opportunities. Visit a traditional rum distillery to find out exactly how it is made, try the local variations, and take back a bottle (or two).
Suggested
Itinerary
At BGYB we offer our clients bespoke itinerary for their charter holidays. Please contact us to receive your very own personalised charter itinerary.
Day 1

Pointe à Pitre & Deshaies - Guadeloupe

Begin your charter by flying to Pointe à Pitre, the capital of Guadeloupe on the island Grande-Terre, and a must-see destination in order to discover the culture and heritage of the country. Meet your yacht in the afternoon and head to Deshaies, where you can swim and sunbathe at its beautiful beaches, appreciate its traditionally creole houses, and explore its magnificent botanical garden, before enjoying your first dinner back on board.

Day 2

Pigeon Island and Les Saintes - Guadeloupe

In the morning set off for Pigeon Island, home to the Cousteau nature reserve – a protected, underwater park which is the perfect spot for some incredible scuba diving. Enjoy lunch on board as you sail to the Iles Des Saintes where you will spend the afternoon – these islands will have you spoilt for choice with beautiful beaches, whilst the Fort Napoléon on the main island, Terre-de-Haut, is a key site to visit to explore the islands' history.

Day 3

Petit Terre - Guadeloupe

Take your time in heading to the islands of Petite Terre, and make a stop along the way for lunch at Le Mango restaurant at Le Relais du Moulin. Once arrived, anchor at the island of Terre-de-Bas. A protected nature reserve, these islands are filled with exotic fauna and flora, and will transport you to paradise. Learn about their treasures at the museum in the Terre-de-Bas lighthouse, then return to your yacht for a fantastic dinner.

Day 4

Marie-Galante

Sail to the island Marie-Galante and learn about its interesting history – discovered by Christopher Columbus, this island remains primarily agricultural and is famous for its powerful rum. After lunch on board, spend the afternoon exploring its coastline to discover countless geological curiosities which are as interesting as their evocative names, such as Devil's Hole Cave. In the evening, ask your chef to prepare dinner with some fresh local fish.

Day 5

Dominica

Enjoy breakfast on board during the sail to the island of Dominica, a haven of natural beauty. For the more adventurous, hike the trail to the Middleham Falls, one of the highest waterfalls on the island, and equally one of its most beautiful spots. Enjoy lunch at a local restaurant for some unique Dominican creations, and after visit Batibou Beach – perfect for swimming and scuba diving, and also for a drink or two at the beach bar.

Day 6

Les Anses d'Arlet – Martinique

Relax with breakfast on board as you sail to Martinique, where you will anchor at the iconic region of Les Anses d'Arlet. Its charming villages are ideal to wander around and explore, and you can't miss the idyllic church of Saint-Henri. Have lunch on board before spending the afternoon on the golden sands of the beach, and in the evening, enjoy an authentic dinner at one of the fantastic restaurants on shore, such as La Mandoline or Le Zandoli.

Day 7

Diamond Rock & Saint Anne - Martinique

Spend the morning at Diamond Rock, the best diving spot in Martinique. This volcanic rock is surrounded by a vast diversity of marine life which will take your breath away. Make the most of this spot with the water toys from your yacht. In the afternoon, sail towards Sainte-Anne, a seaside resort boasting beaches that look like they're straight off of a postcard. Don't miss Les Salines beach with its white sands, palm trees and serene waters.

Day 8

Fort-de-France - Martinique

On your final day of charter, make the most of a final breakfast on board before disembarking at Le Marin and saying goodbye to your crew. Head to Fort-de-France, the capital of Martinique, for a final taste of Caribbean culture. Spend a few days here and visit one of its exceptional rum distilleries for a tasting, before heading back home after an unforgettable adventure.

Yachts for Charter -
Martinique & Guadeloupe