Saint
Martin & Saint Barth
A holiday to Saint Martin and Saint Barth is an exceptional experience. Charter a yacht with crew to discover these islands in unique way. Enjoy luxury cabins on board your yacht which will allow you to relax in complete tranquility.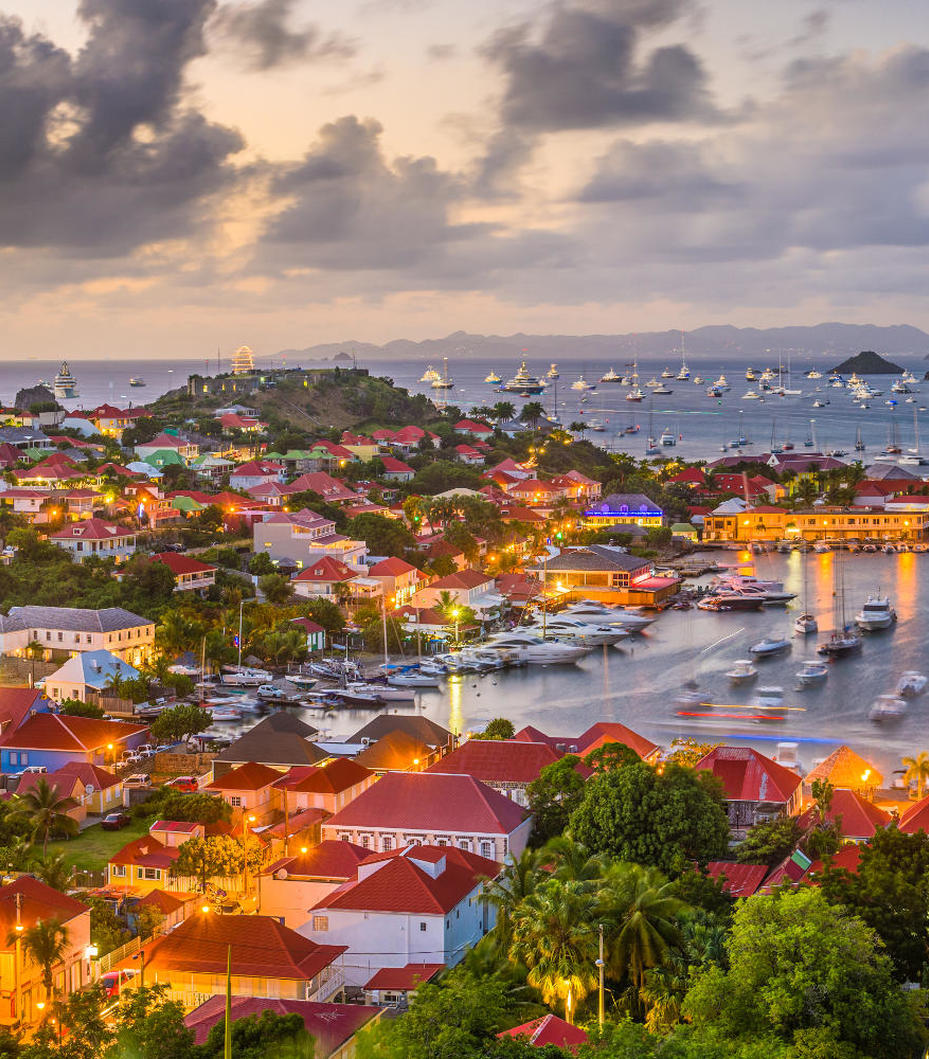 Yacht
Charter in Saint Martin & Saint Barth
Saint Martin and Saint Barth are some of the islands making up the Lesser Antilles in the Caribbean. Their white sand beaches and their turquoise waters are ideal for cruise made up of relaxation and water sports. Charter a yacht in Saint Martin and Saint Barts to discover these islands of paradise.
When to go :
The best time to go is from November to April
Charter
Highlights in Saint Martin & Saint Barth
We have selected our highlights for this dream destination in the Caribbean to give you a taste of what is waiting for you during your luxury yacht charter in Saint Martin and Saint Barts.
01

Gustavia

(Saint Barts)

The capital of Saint Barth. Visit the Gustav fort for an incredible view over the red-roofed houses and the marina which brings together some of the most beautiful yachts in the world. Head towards the Colombier Anse beach to go diving or simply to lounge on the sand.

02

Grand-case

(Saint Martin)

If you pass by Saint Martin, you mustn't miss Grand-case. This village is home to charming wooden houses surrounded by hibiscus plants. Enjoy a slice of paradise by visiting Happy Bay Beach. Off the beaten tourist track, it's a popular spot for those passionate about diving and paddle boarding.

03

Gastronomy

Gastronomy holds a position of prime importance in Saint Martin and Saint Barth. If your charter takes place between January and April, don't miss the Harmony Nights at Grand-case where music and food are celebrated. At Saint Barts, the Gourmet Festival in November welcomes incredible French chefs.
Suggested
Itinerary
At BGYB we offer our clients bespoke itinerary for their charter holidays. Please contact us to receive your very own personalised charter itinerary.
Day 1

Grand-case - Saint Martin

Your charter begins with embarkation at Simpson Bay, on the island of Saint Martin. Embark around midday, greet your crew and enjoy a fantastic first lunch on board as you sail for 2 hours to Grand-case. Spend the afternoon swimming and enjoying water toys on its fine sand beaches, before celebrating your first night of charter at one of the fantastic restaurants nearby, renowned for their French cuisine.

Day 2

Anguilla Island

Set off early to sail to Prickly Pear Cays, a pair of small uninhabited islands. Make the most of this famed snorkeling spot, known for its coral reefs and turquoise waters. Enjoy lunch on board as you sail to Anguilla and anchor at Sandy Ground where you will stay for the night. Lounge around on its beautiful beaches, and don't forget to make a stop at the well-known Elvis' Beach Bar for a Pina Colada.

Day 3

Gustavia - Saint Barts

Sail north to Saint Barts, enjoying views of the uninhabited Tintamarre Island on the way. Anchor at Gustavia, the capital, and explore its famed port filled with some of the most beautiful yachts in the world. Spend the afternoon wandering around and doing some shopping before going for dinner at one of the many great restaurants near the port. In the evening, go to one of Gustavia's VIP clubs for a night you won't forget.

Day 4

Anse de Colombier - Saint Barts

Spend the day relaxing at the Anse de Colombier – this beach is the most protected on the island, and so a haven of natural beauty. Go snorkeling, sunbathe on the beautiful sands, and enjoy the water toys from your yacht, before returning to Gustavia where you will anchor overnight. Return to one of its restaurants, or enjoy a fantastic meal prepared by your chef on board.

Day 5

Saba Island

Have a relaxing morning and breakfast as you sail 3 hours downwind to the island of Saba. Untouched by the modern world, this island is a natural paradise, and the perfect escape from daily life. Your crew can organize a guided hike through its tropical rainforests, where you can discover the treasures of this island filled with exotic birds and wild vegetation. After your expedition into nature, return on board to relax with a delicious meal.

Day 6

Marigot Bay - Saint Martin

Enjoy another relaxing morning on board as you undergo the 3 hour sail back to St Martin, where you will anchor at Marigot Bay. The largest town in the French part of the island, Marigot is filled with culture, such as the 18th century Fort Louis, and the open air creole market selling a variety of fresh produce and artisanal crafts. Browse the local boutiques, and go to the beach for some great spots for windsurfing and water toys.

Day 7

Simpson Bay - Saint Martin

Make the most of your final breakfast on board surrounded by beautiful views as you sail for an hour back to Simpson Bay on St Martin for disembarkation. Say your goodbyes to your crew and do some final shopping for souvenirs to commemorate your Caribbean escape, before setting off to the airport to fly home after a trip you will remember for a long time to come.

Yachts for Charter -
Saint Martin & Saint Barth