Greece
– The Ionian Islands
Charter a yacht in the Ionian Islands for complete immersion in Greek heritage and culture, and be charmed by their lush greenery, red-tiled houses and interesting combination of Italian and French Architecture.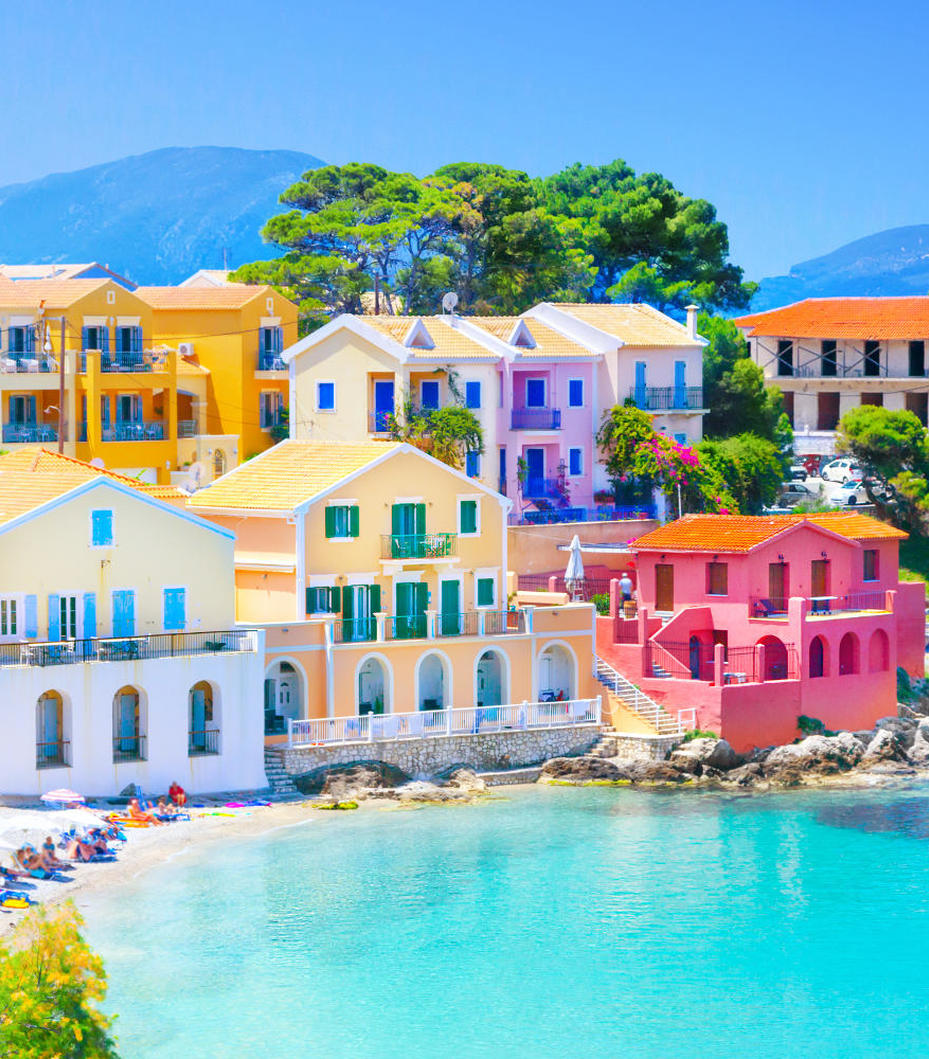 Yacht
Charter in the Ionian Islands, Greece
Located in the Ionian Sea along the West coast of Greece, the Seven Ionian Islands (principally Corfu, Paxos, Antipaxos, Lefkas, Ithaca, Kefalonia, and Zakynthos) they invite you to explore their rich mythological past, not to mention their countless pristine beaches and lush green scenery.
When to go :
The best time to go is from May to October
Charter
Highlights in the Ionian Islands
We have selected three highlights for a charter in the Ionian Islands, Greece, so you can get a taste of what this fabulous charter destination has waiting for you.
01

The

Island of Ithaca

The enchanting island of Ithaca is steeped in legends, as it is where Homer's Odysseus spends his prolonged travels trying to get home to. Visit this peaceful island for mountain hike and biking trails, an array of beautiful beaches, and rich mythological heritage.

02

Corfu

Old Town

Also known as Kerkyra, a visit to Corfu's Old Town is essential for any trip around the Ionian Islands. Marvel at its beautiful Venetian Architecture, explore its numerous churches and museums, and visit a local taverna for a taste of authentic Greek cuisine.

03

Smuggler's

Cove, Zakynthos

No trip to Zakynthos is complete without a visit to Navagio Beach, also known as Smuggler's Cove. This idyllic beach, only accessible by boat, is home to a rich history, including the shipwreck of the Panagiotis, a smuggling vessel from around 1980, which can still be seen today.
Suggested
Itinerary
At BGYB we offer our clients bespoke itinerary for their charter holidays. Please contact us to receive your very own personalised charter itinerary.
Day 1

Corfu

Your charter starts at Corfu, where you will meet your yacht at Kerkyra. Spend the day exploring the beautiful old Corfu Town, a UNESCO world heritage site thanks to its array of cultural offerings, such as its 2 fortresses, and the Church of Saint George. After a day of roaming around cobbled streets, head to a taverna for dinner and enjoy some specialities of the area, such as the Sofrito or the Bourdeto.

Day 2

Paxos

Sail for around an hour to the island of Paxos, and anchor at its natural harbour Gaios. Explore one of its charming villages, such as Loggos or Langada, in the morning, and wander amongst their characteristic streets. In the afternoon, go scuba diving around its many enchanting blue caves before heading back to your yacht for dinner.

Day 3

Antipaxos

Sail over to the neighbouring Antipaxos, a small island only accessible by boat. Wander around the centre and then for a short hike around its rocky coastline. Enjoy lunch on your yacht before spending the afternoon lazing on its beautiful beaches, or having fun with your yacht's jet-skis and water-skis. In the evening, make a stop at a one of the island's tavernas to sample some traditional Greek Ouzo before having dinner back on board.

Day 4

Parga

Enjoy breakfast on board before setting off for Parga, where you will arrive late morning. Explore this picturesque town by wandering through its narrow streets and visiting its boutiques before stopping for lunch at a local taverna for some Greek delicacies. In the afternoon, take a short walk up to its castle for an incredible view over the area, or visit Valtos Beach which is the perfect spot for a swim.

Day 5

Lefkada

Sail for around 2 hours to Lefkas and spend the morning exploring the eponymous main town Lefkada, filled with pretty coloured houses and Venetian churches. Have lunch on board before sailing down to the south of Lefkas and visit the beach Porto Katsiki, one of the most beautiful in Greece thanks to its golden sands and surrounding limestone cliffs. Move along to the seaside resort Vasiliki, which has the perfect conditions for windsurfing.

Day 6

Nydri

Your crew will depart early today to sail down south, and you will arrive at the small harbour of Nydri before lunchtime. Have lunch on board and then spend the afternoon strolling along pristine beaches and discovering your surroundings, or snorkelling and diving from your yacht around the idyllic islets of Kalamos and Kastos. In the evening, your crew will prepare a delicious dinner and cocktails for you to enjoy whilst watching the sunset.

Day 7

Ithaca

Enjoy a short sail to the island Ithaca, also known as Ithaki, renowned for being the home of Homer's hero Odysseus. Spend some time in the capital and wander amongst its charming red roofed houses, before spending the afternoon on the tranquil Gidaki beach. In the evening, sail to the charming port of Kioni, and go for dinner at Lizzy's restaurant, which boasts outside dining areas giving you an incredible view over the bay.

Day 8

Kefalonia – Argostoli

Set off early for Kefalonia, the largest of the Ionian Islands. Spend a few hours exploring its capital Argostoli, a modern, lively town with lots of boutiques to browse, and an interesting history due to it being completely rebuilt an earthquake in 1953. Have lunch in one of the restaurants in its magnificent main square, then in the afternoon, discover the Mellisani Cave, an underground seawater lake famed for its incredible colour.

Day 9

Kefalonia – Antisamos Beach

In the morning, go and visit Kefalonia's famous Agrilia Monastery, which boasts some breath-taking views across the island. Afterwards, head to Antisamos Beach, where your crew will prepare a delicious picnic for lunch. Spend the afternoon relaxing in the sun and swimming, diving and jet-skiing in the clear waters of this renowned beach, before returning to your boat for an elaborate 3 course meal to celebrate your final night of charter.

Day 10

Zakynthos

Your charter ends on the island Zakynthos, more famously known as Zante, and which is known as the green island of poetry and song. Sail to the iconic Smuggler's Cove (Navagio) beach, only accessible by boat, before disembarking in the afternoon. If you can, take a few days to explore this incredible island and experience its famed nightlife before heading to the airport and going home.

Yachts for Charter -
Greece – The Ionian Islands