Montenegro
Just beyond Croatia, Montenegro is one of the hidden gems of the East Mediterranean, characterised by rich cultural heritage, gorgeous beaches and mountainous landscapes. With its 200km of coastline, you can relish the opportunity to visit almost the entire country in one week.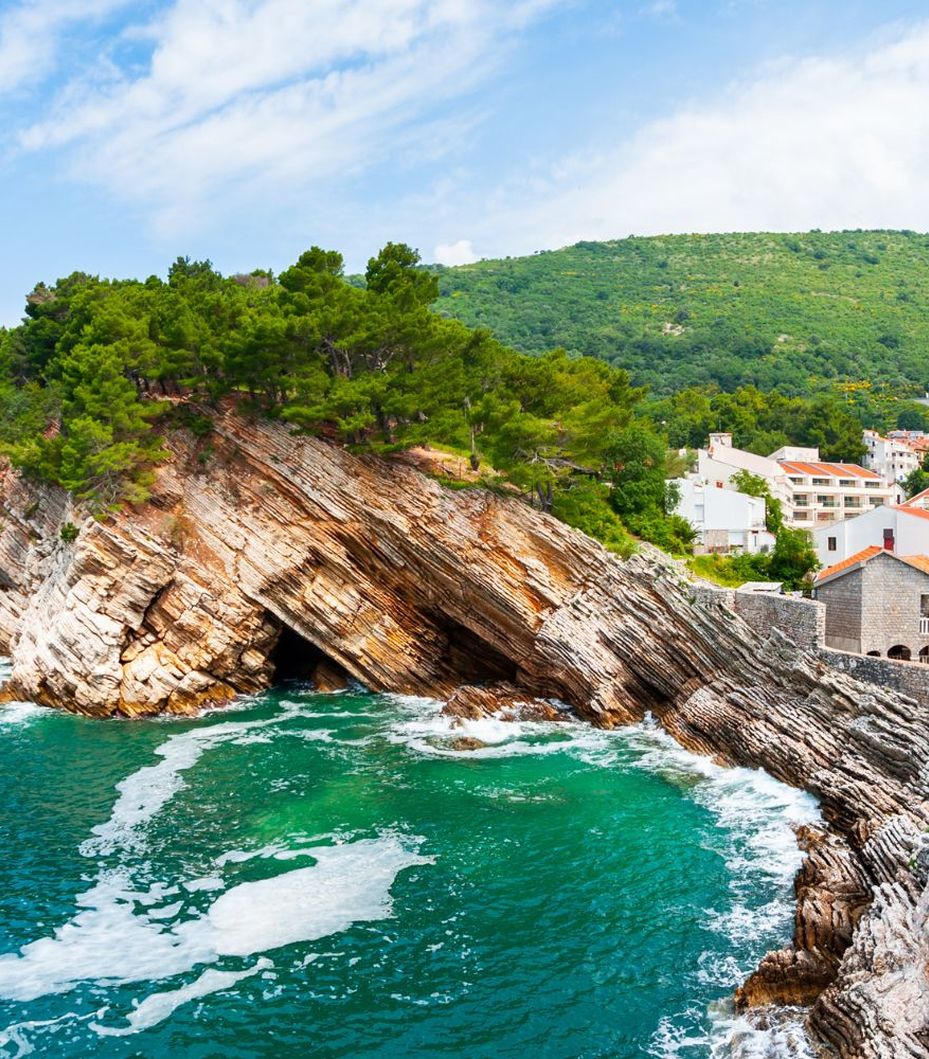 Discovering
the Coastline of Montenegro:
With famed World Heritage sites and charming medieval towns, Montenegro is packed with stunning views and a great choice of anchorages. Here, you will find some of the finest restaurants in the Mediterranean while strolling through cobbled stoned streets or along its extended coastline.
When to go :
The best time to go is from May to October
Charter
Highlights in Montenegro
We have selected three highlights for a charter in Montenegro; unmissable activities and places that we reccomend for your charter!
01

Venetian

Architecture:

With Italian roots, Montenegro holds some of the most well-preserved architecture in the region. In particular, Kotor's Old Town offers many Renaissance-like features with symmetrical arches at its three entry gates. The area is perfect for a romantic stroll through cobbled stoned streets.

02

Gourmet

Food

Specialising in a cross between Mediterranean and Balkan cuisine, Montenegro is home to several world class restaurants. Discover specialities like Kacamak or carp in a frying pan, accompanied by delicious wines. Your crew will also be happy to cook these dishes for you onboard!

03

Underwater

Diving

With popular hotspots off the coast of Herceg Novi, Montenegro is perfect for underwater exploration. From discovering ancient ship wrecks to the unforgettable experience of night diving, the Montenegrin coastline offers a wonderful marine life and environment.
Suggested
Itinerary for a charter in Montenegro
At BGYB we offer our clients bespoke itinerary for their charter holidays. Please contact us to receive your very own personalised charter itinerary.
Day 1

Porto Montenegro

Starting your journey from Porto Montenegro, you can explore the luxury shopping village along Strada Navale with plenty of designer brands, and local gastronomy before embarking on your cruise. For a relaxing evening, enjoy a gourmet meal on board while taking in the spectacular backdrop of Montenegrin mountains and its rocky coastline from the comfort of your yacht.

Day 2

Kotor

Head for Kotor, a UNESCO World Heritage site, due to its history dating back to the Middle Ages. As a walled city of criss-crossed narrow streets and squares, there is plenty to explore. Steeped in tradition, Kotor is surrounded by city bulwarks, providing entrances and exits for centuries. The Cathedral of Saint Tryphon, one of only two Catholic cathedrals in Montenegro, is an unmissable visit thanks to its impressive Romanesque interior.

Day 3

Perast

Perast is an idyllic village on the Bay of Kotor, with a range of cultural attractions including churches, a bell tower and several remote islands exclusively accessible by boat, like Saint George Island and the islet, Our Lady of the Rocks, both a uniquely peaceful experience. With a unique culture, Perast stages several festivals each year, including the International Klapa Festival which celebrates their traditional folk-singing.

Day 4

Herceg Novi

Sail to Herceg Novi to greet this peaceful beachside town with a stroll through its streets lined with pomegranate and kiwi fruit trees. Take advantage of the mineral springs of Igalo and its famous healing sea mud. From here you will be able to make the unmissable trip to the Blue Cave, where a play on light turns the water into a unique azure colour. One of many sea caves on the coast, the Blue Cave is an amazing natural phenomenon.

Day 5

Budva

Travelling further south, you can visit Budva, famous for its historical old town. Rich in monuments and sandy beaches, you will able to lose yourself in the labyrinth of Venetian architecture, followed by samples of some of the region's most delicious wines and seafood on a night out. The nightlife of Budva comes to like after dark with dancing and drinking at Top Hill, a world class nightclub with a globally famous roster of DJs all summer.

Day 6

Sveti Stefan

Joined by a stone walkway to the mainland, Sveti Stefan should be next in your itinerary. Pink sand beaches and the iconic terracotta roofed buildings combine for a fantastic day trip. Take a walk through Milocer Park, filled with olive groves and exotic trees, which will offer some beautiful views. Once known as the Adriatic playground of the rich and famous, Sveti Stefan lives up to the imagination after several renovations.

Day 7

Disembarkation

On the final day, head back to the mainland where you can enjoy one last lunch under the Mediterranean sun before heading to the airport and saying goodbye to your onboard crew. If you have time, don't hesitate to make a trip to Podgorica, the capital of Montenegro. You may even want to make a quick trip to Plantaže Winery, the largest unbroken vineyard in Europe, for a wine tasting and tour of the cellar containing around 2 million litres of wine.

Yachts for Charter -
Montenegro