Marseille
to Saint Tropez
Explore our suggestions for a charter in the French Riviera away from the tourist hotspots; this off the beaten track itinerary will allow you to truly escape day to day life.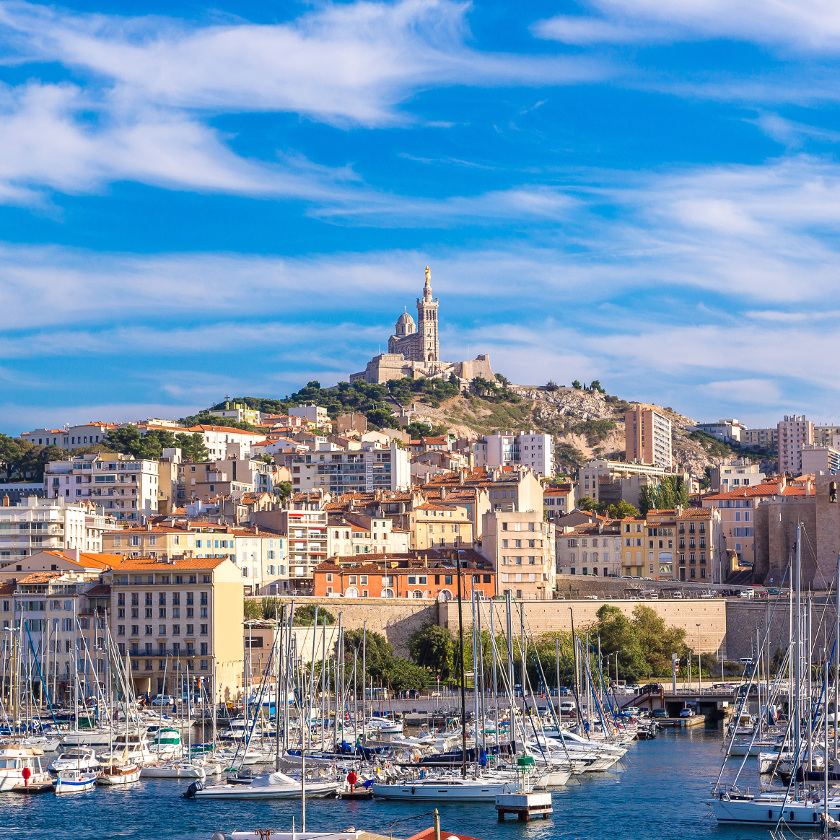 Discover
the secrets of the French Riviera
The perfect adventure to escape from daily life – explore some of the treasures of the French Riviera with a charter filled with natural beauty, secluded coves and charming port villages which will whisk you away from the modern world.
When to go :
The best time to go is from May to October
Charter
Highlights from Marseille to Saint Tropez
We have selected three highlights for a charter from Marseille to Saint Tropez so you can get a taste of what this fabulous charter destination has waiting for you.
01

The

Calanques

This itinerary will allow you to explore some of the numerous Calanques of Marseille's national park, renowned for its beauty. Imagine secluded coves, beautiful beaches and turquoise waters.

02

Local

Cuisine

Experience fine dining at several high quality restaurants during your charter - we particularly recommend 'Le Mas de Langoustier' in Porquerolles, a gastronomic sanctuary of both family and reworked provincial recipes.

03

Picturesque

Ports

Be transported back in time upon arival at the beautiful old ports of the French Riviera - enjoy colourful scenery and freshly caught fish as you watch boats sail by.
Suggested
Itinerary
At BGYB we offer our clients bespoke itinerary for their charter holidays. Please contact us to receive your very own personalised charter itinerary.
Day 1

Marseille

Embarkation in Marseille's old port, where you can enjoy some of the region's famous fresh fish and watch the boats pass by the beautiful, multi-coloured houses surrounding you. Immerse yourself in culture with a visit to Le Mucem – the museum of European and Mediterranean civilizations, a stone's throw away from the port. Meet your crew and unwind for the evening with some fine wine and an excellent meal prepared by your chef.

Day 2

Archipel de Riou & Calanque de Sormiou

Set sail and make a short stop at the Archipel de Riou, where you can marvel at its incredible biodiversity - the perfect spot for some scuba diving. Then enjoy some lunch on the boat as you voyage to the nearby Calanque de Sormiou – one of the most beautiful coves of Marseille's renowned national park. Go for a wander around its beautiful cliffs to take in some spectacular views, or instead relax on its white sand beaches.

Day 3

Calanque de Mogiou & Calanque d'En Vau

Move along to the Calanque de Morgiou, where you can appreciate the charms of its small fishing port. Relax on another beautiful beach, or go diving to explore the mysterious semi-submerged caves which surround the cove. In the afternoon, escape to the Calanque d'En Vau – the high cliffs which surround it create the perfect environment of seclusion and natural beauty.

Day 4

Calanque de Port-Miou & Cassis

Progress to the Calanque de Port-Miou ; although lacking a beach, it is the perfect spot to explore by boat, go scuba diving, or even go for a hike around its cliffs topped with lush vegetation. In the afternoon, dock at the port of Cassis where you can wander around its quaint, colorful streets, taste the local wine and search for treasures at the numerous local boutiques and market stalls.

Day 5

Porquerolles

Sail to the Island of Porquerolles where you can immerse yourself in a slice of paradise by exploring its beautiful beaches. Take in the local culture by paying a visit to its historical forts and windmills, and don't miss a trip to a local vineyard to sample some of the best wines the island can offer. Later on, indulge in fine cuisine at the renowned restaurant "Le Mas du Langoustier", a true gastronomic sanctuary.

Day 6

Cavalaire, La Croix Valmer & Pampelonne

Make a stop at the towns of Cavalaire and La Croix Valmer where you can sample the countless specialty cuisines and enjoy their beautiful ports and beaches. Spend some time at the beaches of Pampelonne where you can relax at one of the numerous luxury beach bars and enjoy a cocktail whilst benefitting from breathtaking views of the sea.

Day 7

Saint Tropez

Disembark at Saint Tropez on your final day of the charter, where you can settle back in to modernity by spending some time in its countless luxury restaurants and chic cafés, or prolong your escape from reality by wandering around its charming port and old town.

Yachts for Charter -
Marseille to Saint Tropez