Sicily
Sicily is home to heavenly beaches, majestic mountains and Europe's greatest natural wonder, Mount Etna. With its unique culture in arts, music and architecture, the Mediterranean's largest island is an ideal setting for a luxury yacht charter.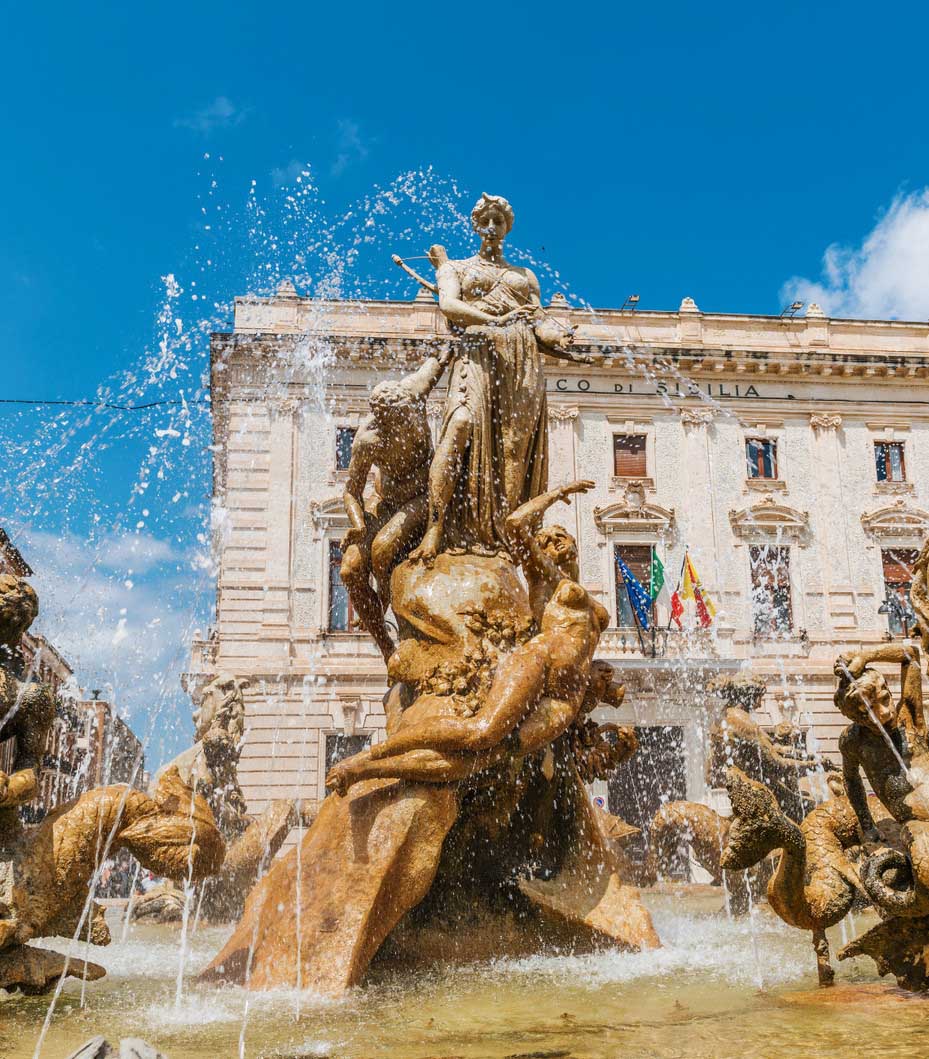 Sicily,
the Mediterranean's largest island
As well as gazing at the island's natural wonders from the sea, you can explore and discover having set foot on dry land. This stunning volcanic destination offers the best of the Mediterranean climate- hot and dry summers.
When to go :
The best time to go is from May to October
Charter
Highlights in Sicily
We have selected three highlights for a charter in Sicily so you can get a taste of what this fabulous charter destination has waiting for you.
01

Gastronomic

delights

Passionate about Italian cuisine ? Sicilian cuisine will tantalize your taste buds: it is renowned even amongst Italians themselves. Try delicious specialities such as their famous fried rice balls, or as its more elegantly known, Arancini; or the Cannoli, a delicious typical Sicilian pastry.

02

The

ancient ruins

Sicily is a must for history buffs. With eight UNESCO World Heritage sites, it is the perfect place to visit archaeological estates.

03

Take

on Mount Etna

The most majestic active volcano in Europe, Mount Etna is a must, for amateurs or experienced explorers. You can either climb to the top for an exceptional view, or admire the natural wonder from the air by booking a helicopter flight.
Suggested
Itinerary
At BGYB we offer our clients bespoke itinerary for their charter holidays. Please contact us for your personalised charter itinerary.
Day 1

Trapani – West Sicily

Begin your charter by embarking in the port of Trapani, just 20 minutes from an airport. Walk through the old town for complete cultural immersion, where you can appreciate the interesting architecture and pay a visit to the 18th century church 'Chiesa del Purgatorio'. Here you are perfectly located to visit destinations such as the historical town Erice, filled with ancient castles, or the beautiful salt fields, or the vineyards at Marsala.

Day 2

Egadi Islands – West Sicily

Sail over to the Egadi Islands, where you can enjoy the sun and go for a swim or do some scuba diving in the beautiful bays of Cala Rossa and Cala Azzurra. Continue up north to explore more stunning bays, or alternatively, visit one of the eponymous towns of the 3 islands: Favignana, Levanzo, and Marettimo. These quaint fishing villages each have their one charms and will take you back to a simpler way of life.

Day 3

Palermo

Continue on to Palermo, the capital of Sicily, where you can anchor in the waters facing the white sand beach of Mondello. Visit its historic centre– highlights include the impressive Cathedral, the Palatine Chapel, which dates back to the 12th century and is one of the best preserved examples of Byzantine architecture, before enjoying an unforgettable dinner at the Villa Igeia.

Day 4

Aeolian Islands - Lipari, Salina and Vulcano

Sail to the beautiful archipelago of the Aeolian Islands, where you will be spoilt for choice for beautiful anchorages. Visit Lipari, the largest and busiest island, to visit its town lined with cafés and restaurants. Alternatively, pay a visit to Salina for idyllic harbours and beaches, or for nature lovers, spend the day in Vulcano and hike up its active volcano for some incredible views.

Day 5

Aeolian Islands – Panarea & Stromboli

Continue your exploration of the Aeolian Islands with a visit to Panarea, an elegant destination possessing Bronze Age ruins for those interested in history, and secluded coves, such as Cala Junco, for those wanting to make the most of the crystal waters surrounding the island by going swimming or diving from the yacht. In the afternoon, enjoy some lunch on board as you sail over to Stromboli and take in the beauty of – or even climb up – its volcano.

Day 6

Taormina

Spend the day in the beautiful city of Taormina. Don't miss its Ancient Greek theatre, still used for music and opera performances today, or the bustling street Corso Umberto, which is filled with shops, cafés, restaurants and art galleries. Cool off by indulging in the well-loved Sicilian dessert Granitas at the famous Bam Bar, and visit the main square, Piazza IX Aprile, for stunning views of the sea and Mount Etna.

Day 7

Syracuse

End your charter by disembarking at Syracuse, one of the oldest cities in the Mediterranean, which has no shortage of cultural sites. If you have time, explore its treasures before returning home, for example the Temple of Apollo, the Roman amphitheatre, and the impressive Latomia del Paradiso, an enchanting quarry tucked away amongst woodlands. If you've had enough of sightseeing, travel to the coastal town of Arenella and enjoy the beach.

Yachts for Charter -
Sicily